This DIY luggage sticker project was sponsored by Cricut. Learn how to make your own DIY luggage stickers with the new Cricut Joy!
Oh boy am I excited to share this post with you!! Last month I was invited to Cricut HQ to preview a BRAND NEW CRICUT MACHINE! Today I get to share with you the new CRICUT JOY!
I'm so excited for my new DIY BFF! This compact machine is portable enough to take anywhere – perfect for my upcoming international move! But don't let the size fool you: this smart cutting machine can cut and write and is powerful enough to cut repeated shapes up to 20 feet long!
As we're downsizing and moving into an apartment in Asia – I can't wait to share the amazing projects I'm able to create with the new Cricut Joy! For my first project, I created a DIY luggage sticker with my new Cricut Joy.
Yield: 1 Luggage Sticker
DIY Luggage Stickers
Materials
Tools
Instructions
Plug in your Cricut Joy! There are NO buttons so it's as simple as plugging it in and powering it up.
Your Joy machine comes with a blade - make sure it's loaded.
Open your design in Cricut Design Space. The Cricut Joy works bluetooth so you can open your design right from your phone. (So quick and easy!!)
Next, prepare your vinyl. With SMART VINYL you DO NOT NEED A MAT!!! Your machine will run it though and measure to make sure you have enough. I like to just trim it after the design is cut.
For this design, I had two colors. First I ran the base layer (purple) though the Cricut Joy.
Next I cut the "outline" of of white vinyl.
Unload from your machine and "weed" your vinyl to remove the excess vinyl.
Use transfer tape to add the base layer.
Next add the "outline" which in my case was the white vinyl.
Enjoy your new luggage sticker!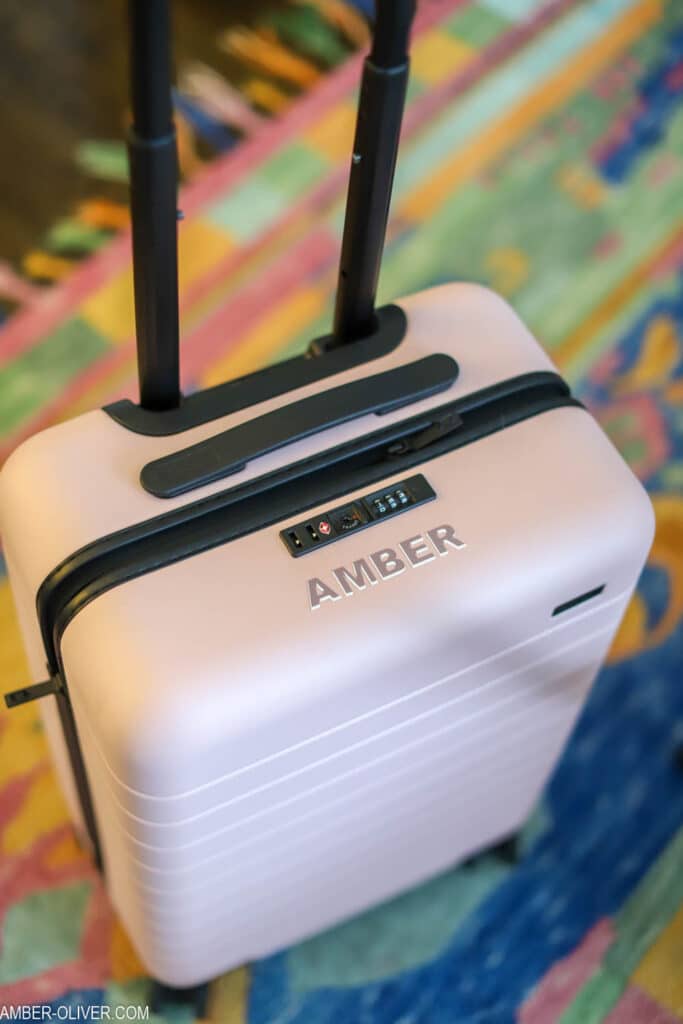 I'm so impressed with this little machine. Don't get me wrong – I absolutely love my Cricut Maker and Explore machines, but sometimes I just need something quick. Since our house is a wreck right now (full of boxes as since we are in the process of moving) and my craft room is mostly packed – I was able to pull out my Cricut Joy and and knock this project out in under 15 minutes right in my living room! All I needed was a power outlet!
Cricut Joy FAQs
How big will it cut? Cricut Joy is the smallest cutting machine on the market. The max material width is 5.5 inches but it is powerful enough to cut repeated shapes up to 20 feet long!
Why use the Cricut Joy? It's perfect for quick everyday projects. It's the perfect companion for your Cricut Explore or Cricut Maker (which is great for Pro-level DIY performance & versatility)
What materials will it cut? The Cricut Joy will cut 50 materials and is perfect for creating customized labels, vinyl decals, iron-on transfers, banners, and even Infusible Ink!
Do I need a mat for cutting? One of the coolest things is the new Cricut Smart Vinyl which is the perfect size for your Cricut Joy and does NOT require at mat! That being said, you CAN still use your existing vinyl with included Cricut Joy mat.
How much is the Cricut Joy and when can I purchase it? The Cricut Joy is priced at $179 and will be available March 1st, 2020!
For my next project, I'm going to use the new Cricut Joy exclusive blank insert card sets that allow you to create unique and stunning results in just a few moments! The new Cricut Joy Card Mat makes it super fast and easy – you're gonna love it!
Don't forget to PIN for later!