You can make unicorn cupcakes with a plain white cake mix and top with easy to make unicorn candy! This adorably delicious post is sponsored by JOANN.
Cupcakes are muffins that believed in miracles – and in this case in unicorns too! We all know that money can't buy happiness but it CAN buy all the ingredients to make these adorable unicorn cupcakes with unicorn candy toppers! The cupcakes, candy, and even the icing are incredibly simple and I know for a fact that whoever you share them with will love them! (Speaking from experience over here!) It's hard not to love something that's colorful, cute, AND tasty! I recently made over my baking cabinet, so this was the first time I got to use my newly organized space!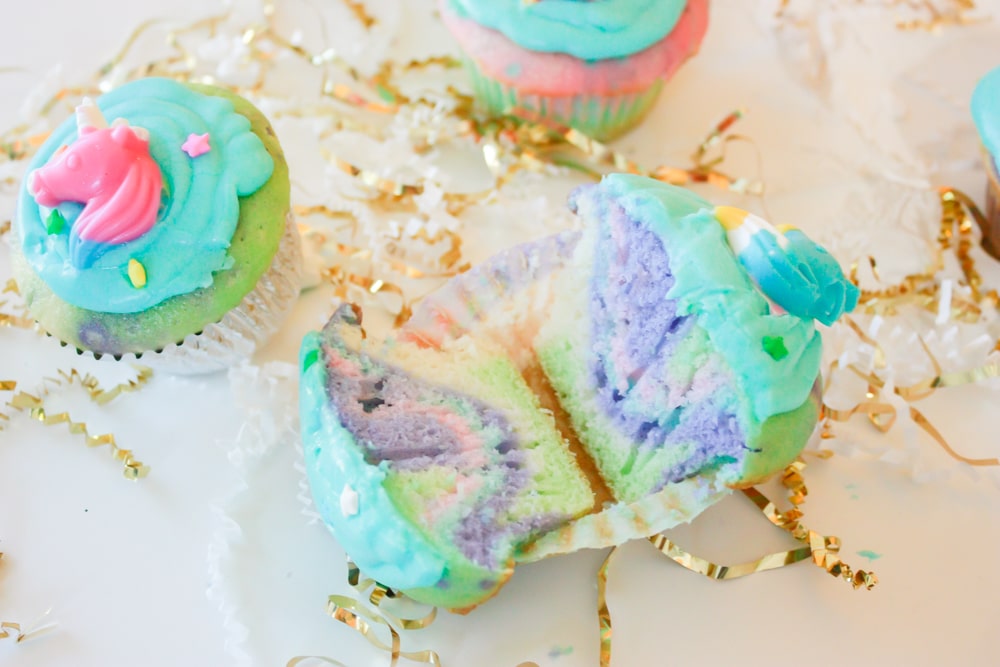 My favorite part of these unicorn cupcakes is the unicorn candy I topped them with! I found the cutest silicon molds at JOANN a few weeks ago and finally got to use them for these unicorn cupcakes. All you need are the molds and a few bags of Wilton Candy Melts!
How to Make Unicorn Candy
Step 1: Separate Candy Melts by color into individual cups.
Step 2: Melt in the microwave according the the pack instructions.
Step 3: Using a separate spoon for each color, spoon a little of each color into the silicon unicorn mold.
Step 4: Use the back of a butter knife to wipe away the excess candy. (It's okay if it's a bit messy! They will break out of the molds without issue.) It' also a good idea to put down wax paper – this will make clean up SO much easier!
Step 5: Allow to harden before popping your unicorn candy out of their molds!
[one-half-first]
[/one-half-first][one-half]
[/one-half]
Unicorn Cupcakes
While your candy is hardening, you can bake your cupcakes! Simply use a white cake mix for this. After mixing up the cake batter, I separated into bowls and added a few drops of food coloring to each bowl. Then I spooned a bit of each color into cupcake tins and used a toothpick to gently mix together. Once they baked, they had a fun tie-dye look for our unicorn cupcakes! The icing is a simple recipe I've used for years – it only uses butter, milk, and powdered sugar.
Ingredients for Simple Cupcake Icing
½ cup butter
2 cups icing sugar
2 to 3 tablespoons milk
Let the butter come to room temperate (or if you live in the south in the summer time, just set outside for 5 minutes!) Combine all in the stand mixer and beat for a few minutes. You could use a hand mixer but the stand mixer is easier! Add more milk as desired to get the consistency you want. Use a disposable decorating bag to pipe the icing onto your cooled unicorn cupcakes, then add your unicorn candy. Your last step is to add your SPRINKLES! Be sure to drop them on before your icing has time to set. It hardens a bit and makes it hard for the sprinkles to stick!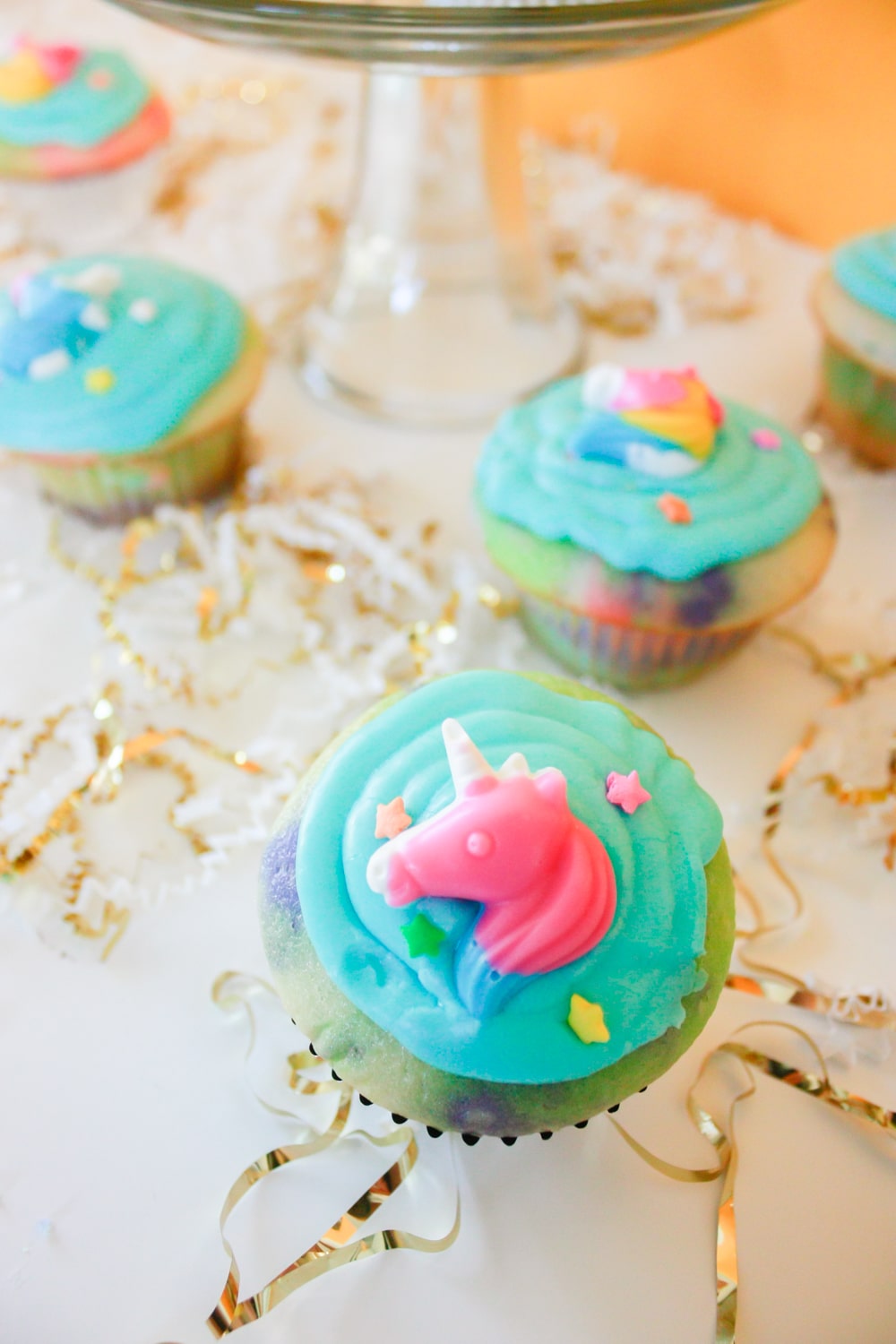 How fun would these unicorn cupcakes be for a unicorn themed birthday party? They are also a fun way to celebrate a getting through a typical Wednesday – which is what we did! You don't always need a special occasion for fun 🙂