Last month we had the chance to visit New York City for the first time! We actually had a trip booked 7 years ago to experience New Year's Eve in Time Square, but out flight was cancelled due to weather. We had to cancel our trip and hadn't made it since.
Hometalk invited me up for a meeting so we decided to make the most of it! Eric came along, much like I've done with him on several business trips! That's our little trick for seeing the world – make the most of EVERY opportunity! That's how we spent a month in Asia, went on a sled dog ride in Alaska, and more!
I'm sharing my tips for what to do in NYC, where to stay in NYC, and what to EAT in NYC! This is based off what we did during our week in NYC. Obviously NYC is a huge city but if you're looking an itinerary for NYC, this trip recap should give you a great place to start.
We were lucky to have a "tour guide" in the form of a family friend who helped us get acquainted with the city but I can see how it could be totally overwhelming to start! If you're planning a trip to NYC – consider staying in Chelsea, NYC and check out some of the stops around the city I share here!
What to do in NYC
Ride the subway (The easiest way to get around!)
The Statue of Liberty
Ellis Island (Great views of the city from the ferry!)
Battery Park
The World Trade Center Memorial
Visit Washington Square Park
Hang out in Greenwich Village
The Whitney Museum
Walk the Highline
Shop at Chelsea Market
Take a selfie in Times Square
See a Broadway Show
Walk through Central Park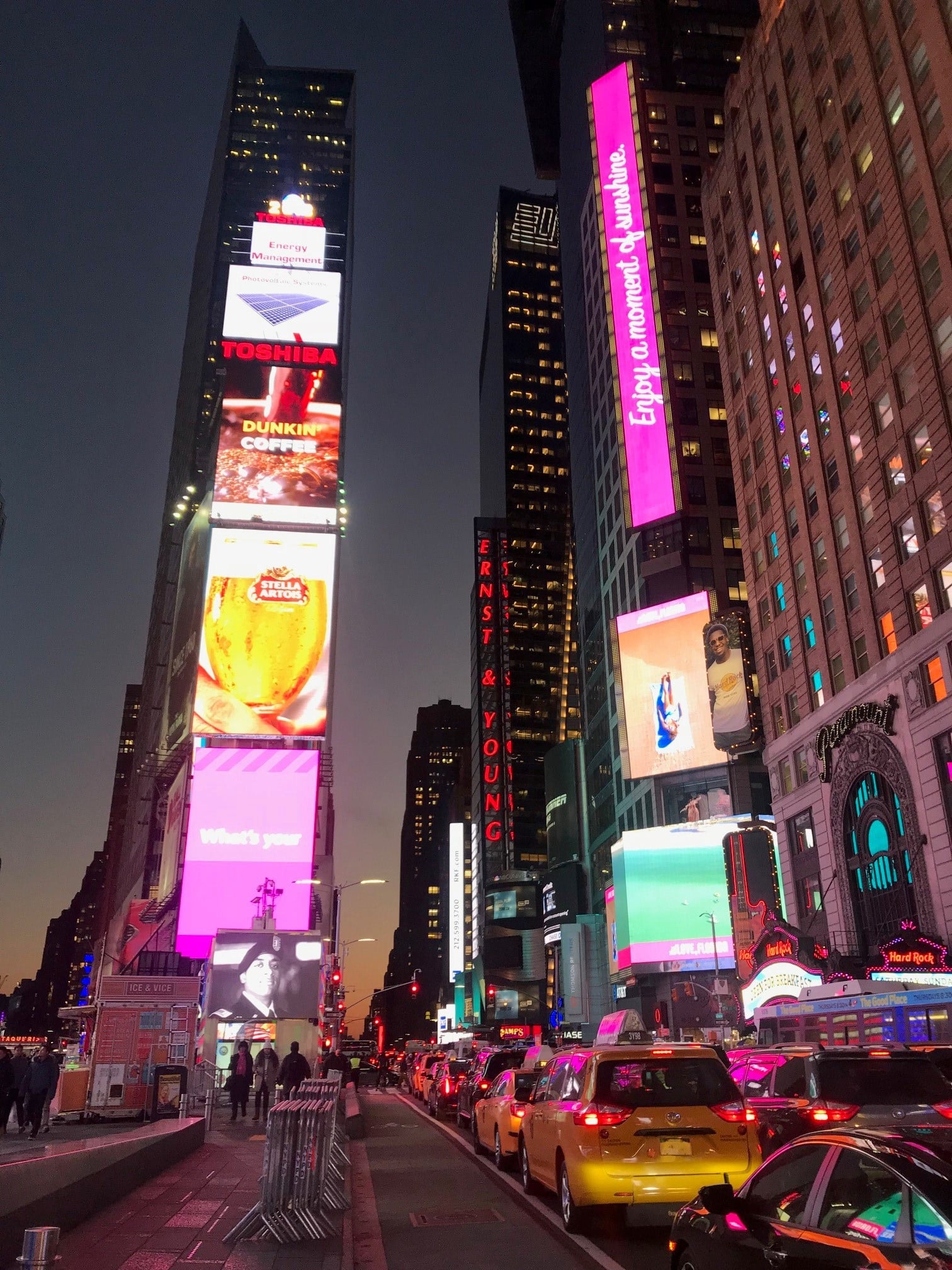 Where to stay in NYC
We stayed in an Airbnb on the extra nights we added to our trip. We've stayed in several Airbnbs and this was our first BAD experience. The place was not great but the Airbnb customer service was! We stayed in Chelsea so we were near Hometalk HQ and turns out Eric's company had an office right around the corner. We were able to walk everywhere we needed or jump on the subway. We were one block from Penn Station. We also stayed at DoubleTree by Hilton Hotel.
Note: We almost always stay in an Airbnb when we travel. They save a ton of money and we've stayed in some pretty nice places! If you haven't tried – sign up today for $40 in travel credit ???? 
What to eat in NYC
Hot dogs from a street vendor!
Anywhere in Chelsea Market – so many choices!
There is seriously SO MUCH to do in New York City and there was no way we could get to everything we wanted in a week. Plus it was the middle of January and FREEZING! But it was a great trip and we'd love to come back; when it's warmer of course 😉