This post is sponsored by FTD.
Last month, Eric and I celebrated our 4th wedding anniversary! After our first anniversary, we thought it would be fun to try to celebrate using the traditional wedding gifts each year. For example, paper is the traditional first year wedding gift so our paper boarding passes for our trip to the northeast were our gifts that year. This year, the traditional 4th anniversary gift is flowers. Below are a few 4th anniversary gift ideas that are all flower themed!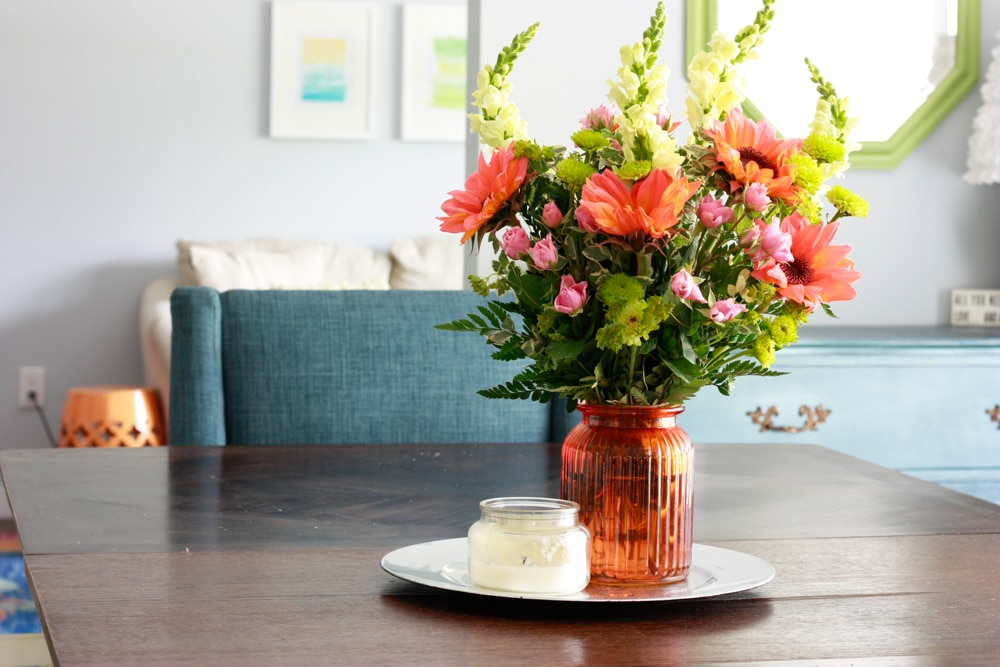 4th Anniversary Gift Ideas
Visit public gardens. Depending on the time of year your anniversary falls, you can visit the arboretum or botanical gardens in your area. Enjoy the your date and maybe pack a picnic to make it the day last even longer!
Plant a garden. This is a the gift that keeps on giving. Spending an afternoon doing some gardening together is the perfect way to relax, unwind, and spend some quality time together. You're also left with an amazing garden that will look good for months to come. Then, even after your anniversary you can spend your evenings on your patio sipping wine and enjoying the beautiful garden!
Take a flower arranging class. This is another fun date idea! Check Groupon or do a quick Google search for flower arranging classes in your area.
Floral clothing or accessory. The possibilities really are endless with this anniversary gift idea! Gift your husband rose cuff links or give your wife a nice floral scented perfume.
Have flowers delivered. This is the easiest gift option thanks to FTD! You can choose a beautiful bouquet and have it delivered to your spouse. No matter what you want to say, a local florist takes what's on your mind and heart and crafts sentiments in a breathtaking bouquet and delivers it for you.
This year, I got this gorgeous bouquet from FTD to celebrate our 4th wedding anniversary.  The gorgeous oranges and autumn hues were perfect for our anniversary month, September. I also loved the pops of pink since that's my favorite color! No matter what big event or milestone you have going on in your life, FTD can arrange the perfect way to celebrate!
If you're curious what gifts to give for each anniversary, I've created a handy printable! It includes the traditional as well as modern gift ideas by year. To get a copy of the free printable, simply click on DOWNLOAD above then save a copy of the PDF. Easy peasy!