Eric and I just returned from our annual "honeymoon". We are going to try to start a tradition of taking a trip together each year, just the two of us, to celebrate our marriage. This is easy now but that may change once we have kids!
We've lived in Houston for the past few years and are starting to miss seeing actual seasons so we decided to head to the northeast. We spent the last week in Rockport, Massachusetts and traveled from there in and out of Boston and also into Salem
. The weather was beautiful and there was no shortage of things to do or see. We were thankful for so many suggestions from our friends and family on what to see, eat, and do.
Rockport, MA
We visited several shops on Bearskin Neck and saw really pretty views of the harbor. This place looked just like a postcard and was used to film scenes in The Proposal.
We ate at Roy Moore's Lobster Company (well I don't eat fish but Eric had a Lobster Roll) where we saw them bringing the lobster in fresh from the water in the back, Helmut's Strudel, My Place By the Sea (pricey but tasty), Red Skiff, Rockport Fudgery, and Top Dog of Rockport. Lots of cute places to eat.
We absolutely loved our B&B; The Pleasant Street Inn. The place was gorgeous and well taken care of for a 100+ year old home! The Inn Keeper, Lynne, was very nice and even gave us a ride to the train station on our last day 🙂 Also, her breakfast was AMAZING! If you are ever up this way I recommend this place.
One of my favorite parts of the whole trip was walking around and looking at all the houses. So many cool house styles. Every house had a different color door and I thought that was so cute! There were leaves everywhere and the COLORS and the SMELLS of fall were awesome. Something we really don't get back home!
Salem, MA
I'm so glad we did this trip in October because it was the perfect time to visit Salem! We learned all about the Salem Witch Trials and visited the Witch Museum. As soon as it got dark we got to go on a walking tour called Rory Raven's Magic Lantern Tour.
We walked all through the town and got to hear stories about history, ghosts, and murder – wooo spooooky!   It was pretty cool because the tour guide had a stick with a lantern on top that projected pictures on walls so he could show us things while we were walking through the town. Also there was champagne so that's a win in my book!
Boston, MA
In Boston, our first stop was the Samuel Adams Brewery tour. Eric has done several brewery tours and said this was the best he's ever been on. The girl leading did a great job and was really funny.
We learned how they make beer and got to touch, smell, and taste the ingredients. It was really informative. There isn't a charge for the tour but they ask for a $2 donation that goes to charity. I don't drink beer so Eric had a really great time 😉  
Our first meal in Boston was at Legal Seafood. We were told by multiple people to check it out and it was pretty good. I don't usually eat seafood but I tried the shrimp and Eric had the lobster.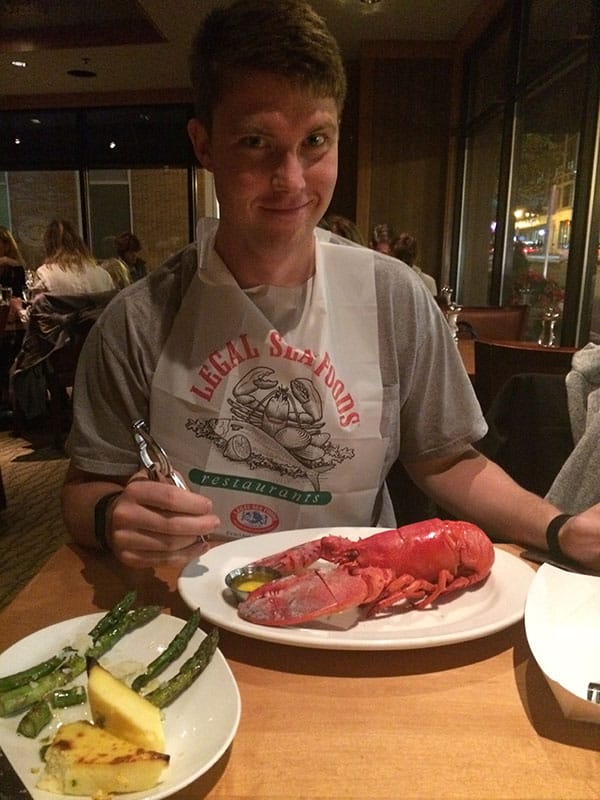 We used the commuter rail to get back and forth from Boston to Rockport and it only runs every couple of hours. One evening we missed the train so had a while to wait and luckily we were near the North End which is Boston's "Little Italy".
There were so many Italian restaurants and bakeries! We tried a cannoli and it was DELISH! We came back again another day and had lunch at Gennaro's at 5 North Square – I was in carb heaven.
The #1 thing everyone told us to do was The Freedom Trail. We got plenty of exercise! I think my FitBit had like 17,000 steps that day. The trail takes you from Boston Common and for about 3 miles you walk through the city and stop at different historical stops.
Most of the stops are free – there's a plaque to read or a graveyard to walk though, but some of the museums you have to pay to go in. I think they were all around $10 for entrance. My favorite stops were Boston Common, Old South Meeting House, and Old North Church. I feel like I learned so much on that tour!
Our last day in Boston we visited the Cheers bar and had lunch, spent more time at Boston Common, and walked around Harvard then down Massachusetts Avenue to MIT.
We had to get up the next day at 3:30 am to catch our 6 am flight home so we ordered room service and crashed early. It was an exhausting trip because of all the walking but it was great exercise and I loved all the fresh autumn air.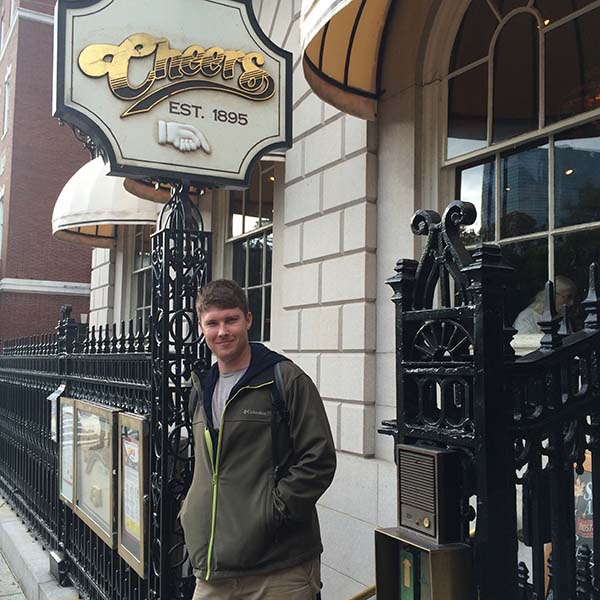 I'm not sure where we will visit next year but I would love to come back to the northeast sometime. Hopefully we can bring some of the cooler weather back south with us. I love taking trips but the best part is always coming home. And now that we have Barkley it's even sweeter!