After our time in China, we went on holiday in Thailand since Eric worked through Christmas and New Years. We had an amazing time in Phuket, and a bit of fun in Bangkok as well. One of the highlights of our time in Bangkok was visiting the Unicorn Cafe. I read articles about it on Buzzfeed, Cosmo, and Mashable so I knew we had to schedule in a visit!
They had all sorts of yummy rainbow goodies and it inspired me when I got home to make my own magical unicorn creation! Bangkok is about a million degrees so this drink would NOT go over well there, but since we're having *slightly* cooler temperatures here in Houston (and it IS winter after all) I'm sharing my unicorn hot chocolate; you can make yourself at home!
Unicorn Hot Chocolate
Ingredients
1 cup Heavy Whipping Cream
3 tbsp. Powdered Sugar
Food Coloring
Hot Chocolate
Sprinkles
Marshmellows
Instructions
Mix heavy whipping cream and powdered sugar.
Stir thoroughly.
Add a few drops of food coloring.
Stir thoroughly.
Use a chilled bowl and whisk attachment in your stand mixer.
Stir mixture in slowly.
Mix on medium speed for 2-3 minutes.
Add cream and toppings to a mug of cocoa!
It's almost too pretty to eat! I love the pink whipped cream and want to add it to EVERYTHING! Also, those sticks are Pocky Biscuit Sticks I grabbed on our layover in Japan. YUM! They are available in the states though! I've seen where you can DIY your marshmallows but "ain't nobody got time for that"… so I just picked up a bag from the grocery store for $1.19! Easy peasy.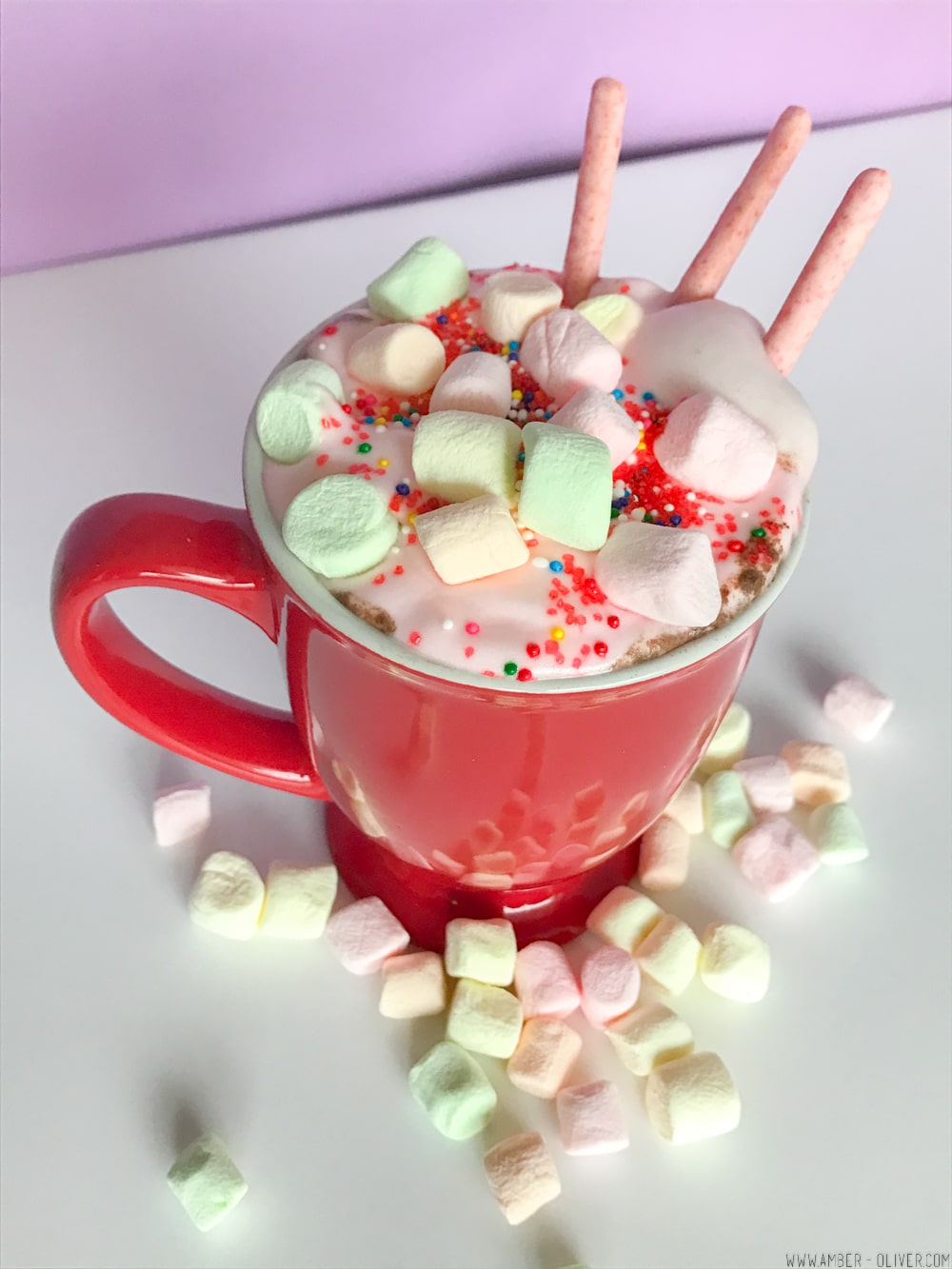 I had a total sugar rush after drinking this, but it was a yummy afternoon treat. As mesmerized as I was by it, this would be a huge hit with kids! It's simple enough since I used a hot chocolate mix (even simpler, I use the Keurig to get the hot water!) Now, I want to make unicorn versions of everything! Unicorn spaghetti! Unicorn pancakes! Unicorn… ok, maybe I'll just stick with the cocoa 😉 Enjoy this yummy treat!