Step by step tutorial for creating a DIY pen organizer with PVC pipe! Spray paint any color for a custom desktop organization.
I've always loved August because it meant back to school time and back to school means new SCHOOL SUPPLIES! Stores are full of new notebooks, planners, and pens. I always loved perusing the back to school sections of the store.
I'm a Type A person and love a handwritten to do list. I've started to color code my calendar and to do list so I can stay better organized. I've shared a lot lately about how I organize my newly finished home office and craft room and I'm adding another DIY to the long list of projects completed for that room. I used PVC, scrap wood, and a little spray paint to create a fun DIY pen organizer!
Yield: 1 Pen Organizer
DIY Pen Organizer
Step by step tutorial for creating a DIY pen organizer with PVC pipe! Spray paint any color for a custom desktop organization.
Materials
2 inch PVC Pipe (You can get 2 foot sections)
Wood (I used scrap wood)
Spray Paint (I used Krylon Ballet Slipper)
Glue (I used Liquid Nails)
Painter's Tape
Sandpaper
Instructions
Cut your PVC pipe. I didn't use exact measurements, just divided the 2 foot pipe into 5 uneven sections. I set the miter saw to cut at a 20 degree angle. Remember to cut so that each section has a flat bottom; you'll have to alternate where you make the angled cuts. Sand off any rough edges.
I was lucky enough to have scrap wood in the exact size I needed! You really only need the base piece, but my scrap wood was already glued together so I used it as is. Measure your wood so the PVC fits and cut to size. Sand the wood before attaching the PVC.
Next, you'll adhere the PVC to the wood. I used liquid nails and let it dry over night.
Before painting, I taped off the interior of the pipes since I wanted them to stay white. I also stuffed in old newspaper to block any paint from getting in.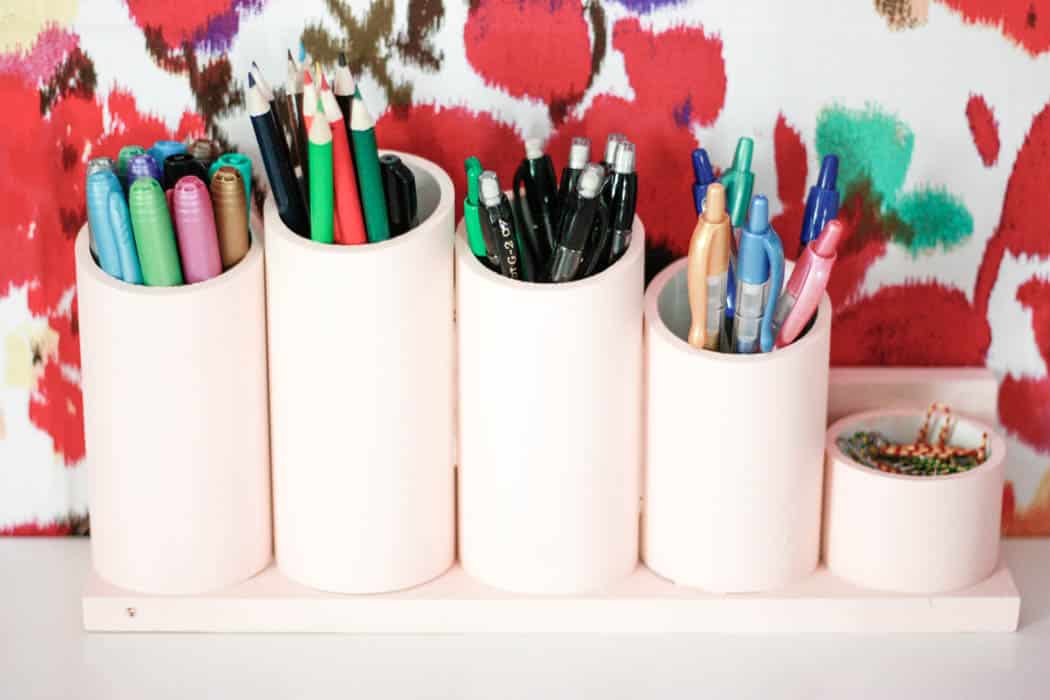 I'm using the Pilot G2 Metallics to organize my August schedule. I use the G2 Premium at work all the time in classic blue and black, but for my personal use I love all the fun a vibrant colors (these pens come in 15 different colors!).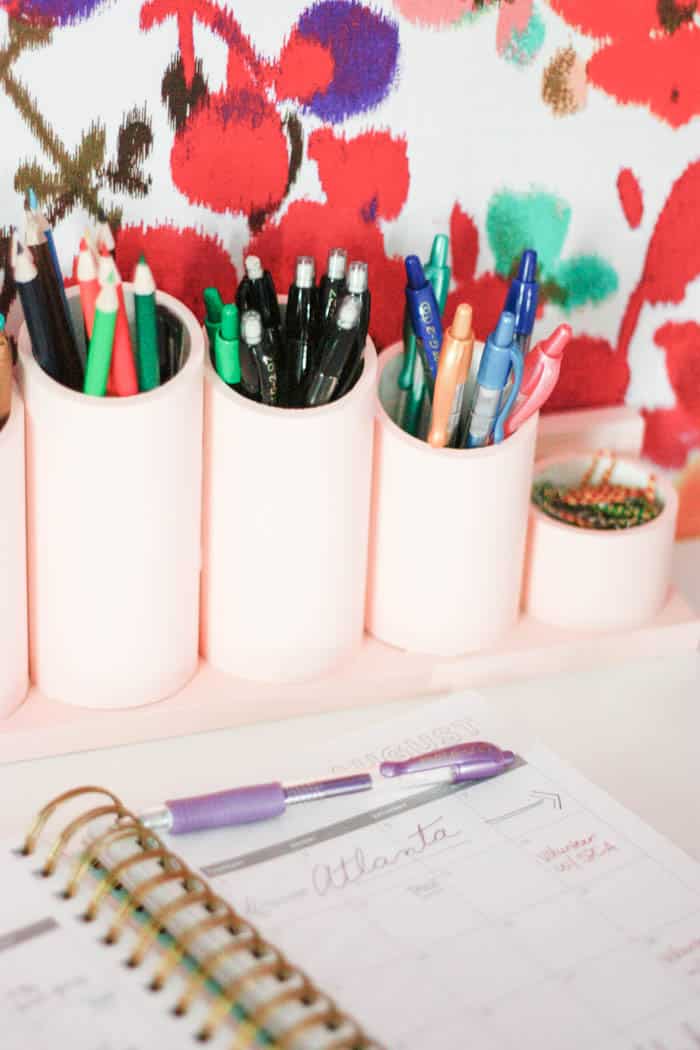 I use different colors to color code my schedule in my written planner. Pilot G2 pens come in 4 different point sizes so you can further customize your writing style.
The Metallics are my new favorite but with multiple collections to choose from there's a pen for everyone – and they are proven to write longer than all other gel brands! Pick up a pack on your next Target run and fill up your new DIY Pen Organizer!
Do you love back to school time as much as I do? What's your favorite thing to buy?