Living in Houston has exposed us to many new cultures. Last weekend for example, we joined an Iranian family for a Persian dinner! My favorite culture to celebrate is the Mexican culture! I really love Mexican food – at least the version of it we get in Texas! I had never really celebrated Cinco de Mayo until moving to Houston. I'd always heard it was Mexican Independence day (which it isn't!). Cinco de Mayo is observed to commemorate the Mexican army's unlikely victory over the French in a battle that occurred on May 5, 1862 (source). This battle was important because not only did the out numbered Mexican army defeat the French army, but since the battle, no country in the Americas has subsequently been invaded by any other European military force. Thanks, Mexico! To celebrate, I made DIY Cinco de Mayo Party Decor.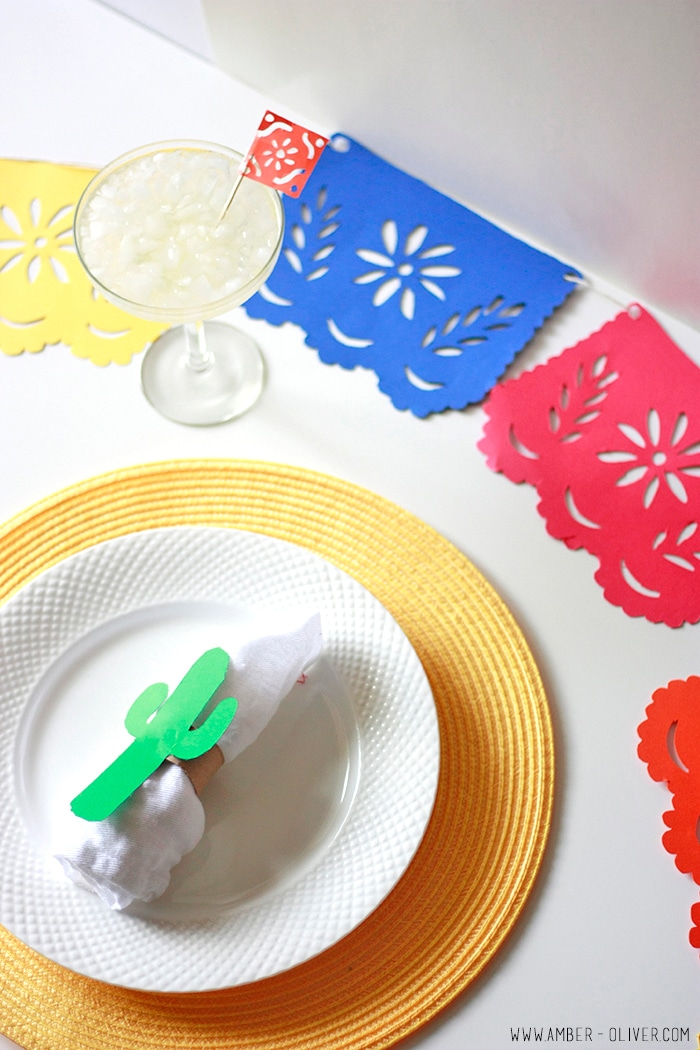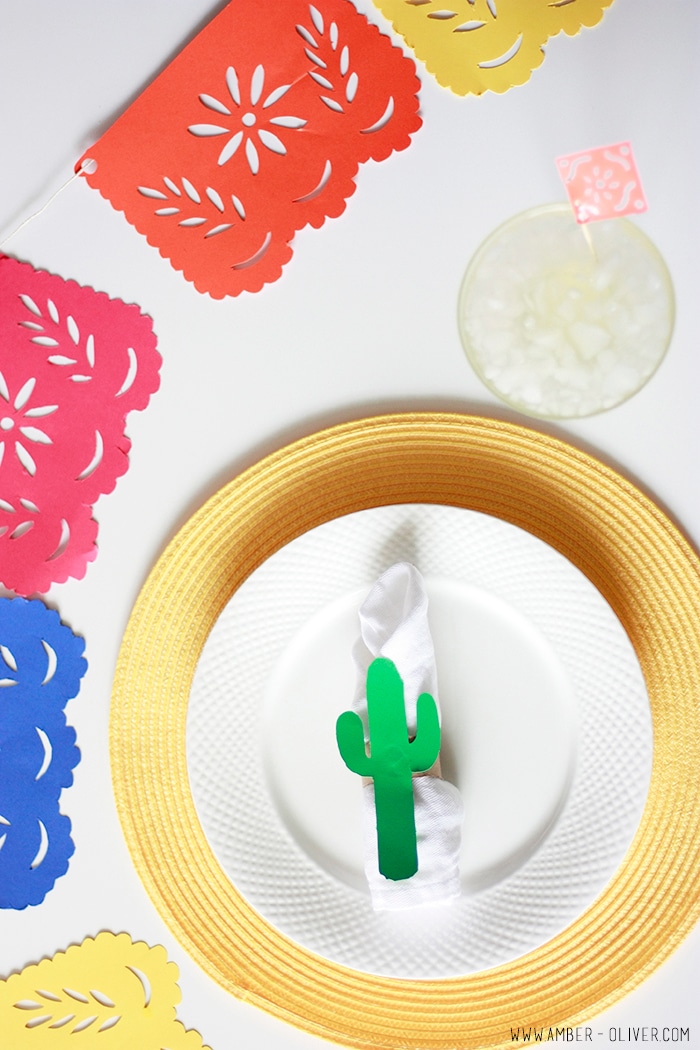 For this month's Ready, Set, Craft! Challenge I chose paper as the challenge item! I knew exactly what I wanted to make: papel picado banners! I also let me imagination go a little crazy and created some cactus napkin rings and drink flags! I had my butt kicked by used my Silhouette machine (affiliate links) to cut out the designs after I doodled them on paper. That was a little tricky, so I'm also going to share my designs as FREE DOWNLOADS! I ran into several problems when cutting these since I'm still learning how to use the Silhouette. After taking a picture of my design on the Pixscan mat, I imported it into the Silhouette design studio. I then used the Trace feature to outline my design and try to cut them out. It worked pretty well, but kept telling me "registration mark failure" which meant I had to continually unload and load the mat then try manually finding the registration marks so the machine would start cutting.
DIY Cinco de Mayo Party Decor

To make the cactus napkin rings:
Cut the cactus (FREE DOWNLOAD!) with your Silhouette. (If you don't have one you could cut these pretty easily with an xacto knife)
Cut a toilet paper roll into 4 pieces
Glue the cactus on the "napkin ring" you create with the recycled cardboard roll.
*You could also use a paper towel roll but the cardboard doesn't seem as sturdy.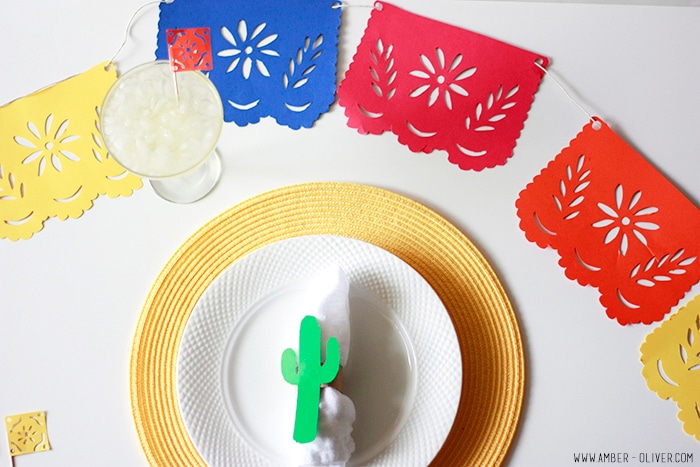 To make the papel picado banner:
I drew the design on a piece of paper, took a photo of it on the pixscan mat, then imported it into the Silhouette design studio. After you've imported the (FREE DOWNLOAD!), use the TRACE function to select around the flag then cut! You can also save the jpeg files below and import them yourself 🙂
Paper flags:
Use the same process as for the papel picado banner above. Just select the little flag in the corner of the photo 🙂 I then used tape to attach them to toothpicks. These would look super cute on cupcakes as well!
Follow me! INSTAGRAM | TWITTER | FACEBOOK | BLOGLOVIN
Note: After all my problems with the Silhouette, I switched to a Cricut and haven't looked back!