Do you have a favorite piece of furniture? I would probably say my bed ranks as number one. But the piece I'm most proud of: my china cabinet. I refinished it nearly 2 years ago and I still love it! Recently I even updated it again by painting the back a dark gray. I was looking on Craigslist for the perfect piece when my boss overheard me talking to my coworker about it. Long story short: he gave me a china cabinet his mother had in her garage… FOR FREE! The total cost for this project was under $50 and most of that cost was for the Annie Sloan Chalk Paint. That stuff isn't cheap but it's SO worth it. At the time we were living in the apartment and had nowhere to go to do projects you would normally do in your garage. Because you can apply this paint without priming or sanding (which I couldn't do indoors) I went ahead and splurged for this project. It took some time to paint this beast and we ended up having to do 2 coats plus touch ups. I couldn't find drawer pulls that would fit and haven't made time to re-drill holes for new ones.I jazzed up the handles and knobs as well using Rub 'n Buff and it made a big difference. These photos are from our apartment. The china cabinet has made a new home at the new house; he's just not ready to be photographed there yet 😉 The dining room table and chairs were refinished as well to match the china cabinet. (Eric got the table and chairs for $10!!!!) You can see below that both the china cabinet and the tables were pretty ugly before! But a with little paint, stain, and new fabric – I got a matching dining room!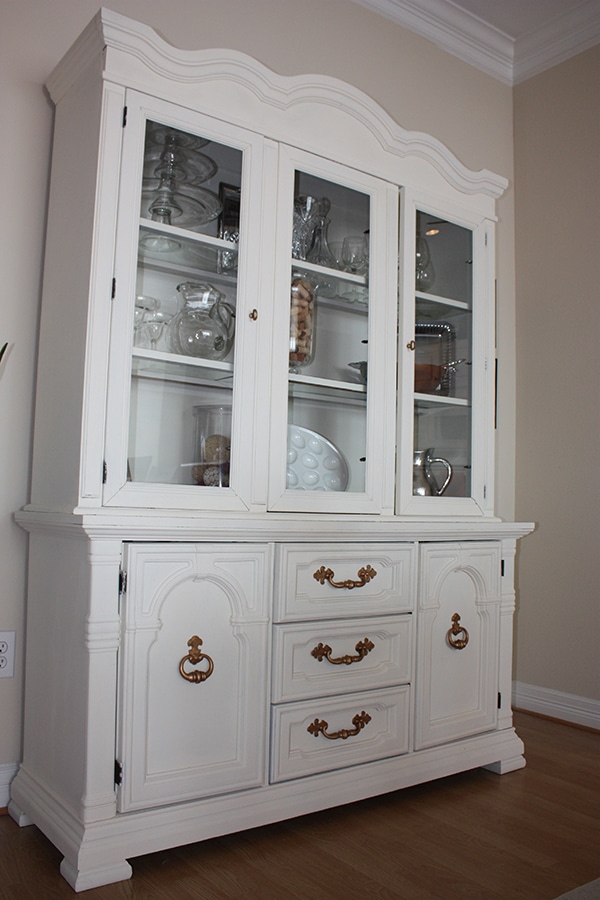 The china cabinet was originally DARK wood and the table and chairs were light wood and almost looked orange. I didn't like either of them before but after all the work we put into them I LOVE THEM. The chairs were simple to re-cover: just unscrew them from the base, staple new fabric on them, and screw them back together. I used a cheap cotton fabric and it's held up just fine. The idea was I could always change it out if they got dirty or messed up but 2 years later they still look great.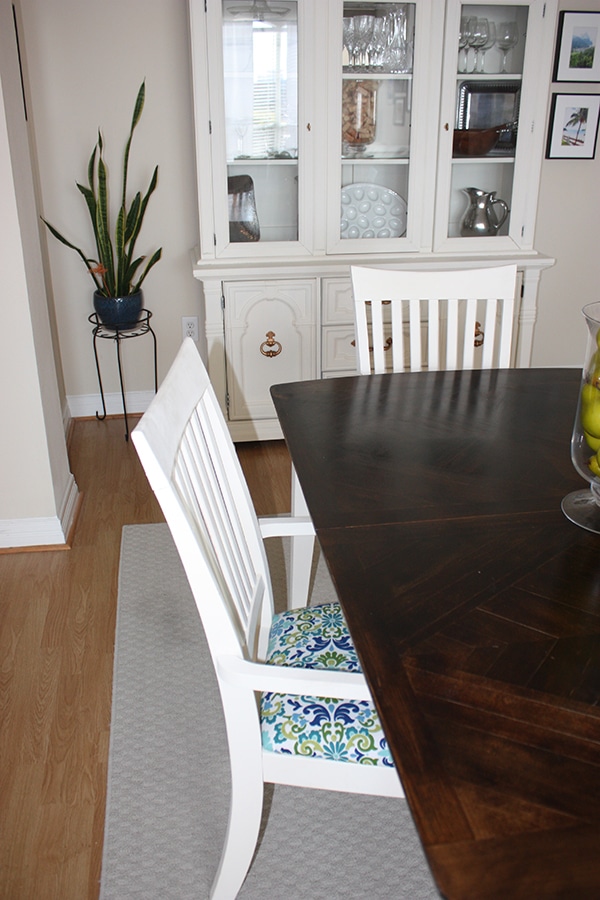 What do you guys think? Do you have a favorite piece of furniture in your home? Did you give it a makeover or love it as is? Let me know!
Follow me! INSTAGRAM | TWITTER | FACEBOOK | BLOGLOVIN