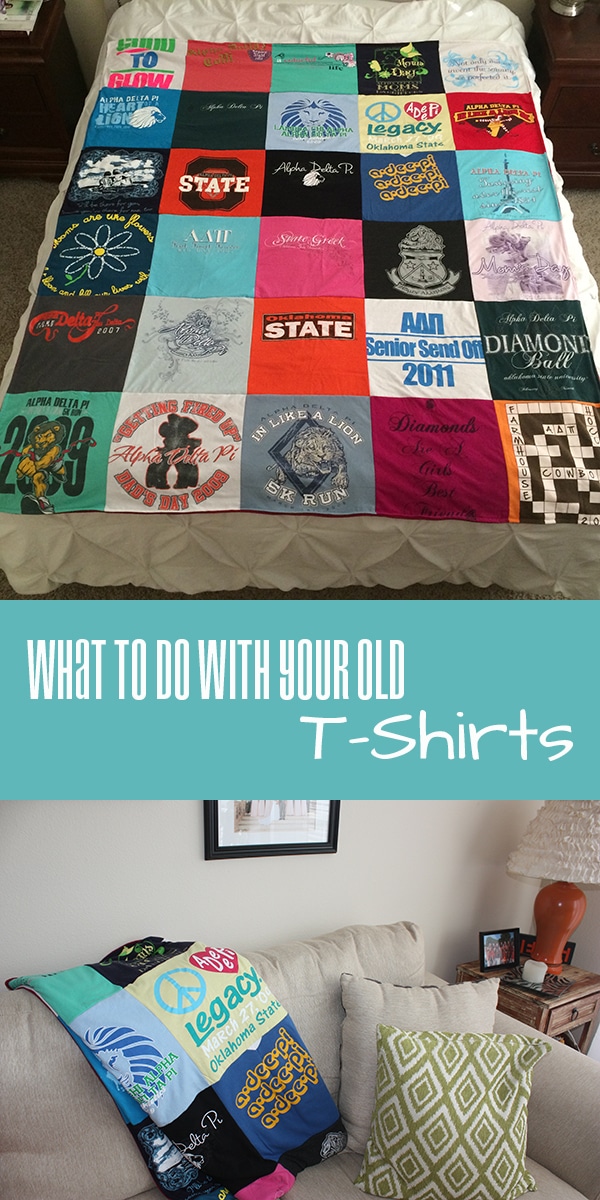 After college I was left with a plethora of old t-shirts. In the sorority, we got t-shirts for every event we ever had. Recruitment? There's a t-shirt for that. Date Party? There's a t-shirt for that. Game Day? There's a t-shirt for that. Since I graduated over 3 years ago I don't have a lot of opportunities to wear these old t-shirts anymore, and most of them were getting faded. The majority of these t-shirts were packed in a big storage tub in our guestroom closet. I love them because they all represent really happy memories. Each of those shirts has a story and I want to remember those stories years from now. So the question is: What to do with your old t-shirts? I'd played with the idea of making a t-shirt quilt for years. I can sew, but I didn't think I could do such a big project and didn't want to run the risk of ruining my shirts. Plus every time I checked prices they were several hundred dollars! When I found Project Repat I was so excited – not only will they make your t-shirts into a beautiful quilt for you but it's AFFORDABLE too!  I got the FULL size and the original price was $109! I used a discount code and got it even cheaper! Lucky for you – I have a discount code to share!
Use code FORYOU for 25% off at Project Repat!
The process was simple: after you place your order online they send you a bag and a FedEx label so you can send all your shirts in. The only cutting you have to do is if your shirt has designs on both sides and you only want to use one of the designs. You then simply cut the front from the back and send the side you want to use. Next you take a picture of the layout you want and you are ready to ship! I made a quilt for me and one for Eric and I was able to send them in the same big bag. Give the perfect holiday gift this year – or treat yourself!