Learn how to make a bed skirt quickly, easily, and in any size! This project is sponsored by JOANN.
Necessity is the mother of all invention, right? Well when we got a new mattress a few months ago (a Tempur-pedic, holla!) I also got a new bed frame. It never made sense to me why standard bed frames are only like 6 inches off the ground. I found a much taller one, and now have PLENTY of room under the bed! The problem? It was impossible to find a bed skirt that fit! The ones I found were either either way too short or way too long. I could have hemmed it, but I was also having trouble finding the right color. Luckily, JOANN has fabric in EVERY color ever! I was able to find the exact shade of navy blue and learned how to make a bed skirt to perfectly finish our bed!
Yield: 1 Bed Skirt
How To Make A Bed Skirt
Learn how to make a bed skirt quickly, easily, and in any size!
Total Time
5 hours
30 minutes
Instructions
Step 1: Start by measuring and cutting your fabric straight down the middle.
Step 2: Start cutting out your sections. You'll have 2 side pieces, 1 end or foot piece, and 2 corner panels.
Subtract 3.5 inches from the each of the side pieces and 7 inches from the foot piece
Corner panels are 16 inches wide
Remember to add 1/2 to 1 inch for hem allowances before you cut (I hemmed mine at 1 inch)
Add 2-3 inches to the height of the bed so you have a place to attach to the box spring.
EXAMPLE: my queen bed is 80x60x80 and I wanted 1 inch hem so my panels were cut out:
78.5 x 20 inches (2)
55 x 20 inches
18 x 20 inches (2)
Step 3: Add a seam to the sides and bottom of each panel. Since the top will be hidden, I didn't bother with a seam and just used the straight edge of the fabric. Fold the fabric over:; you can use a ruler to do this, or lay the fabric on a cutting mat with measurements.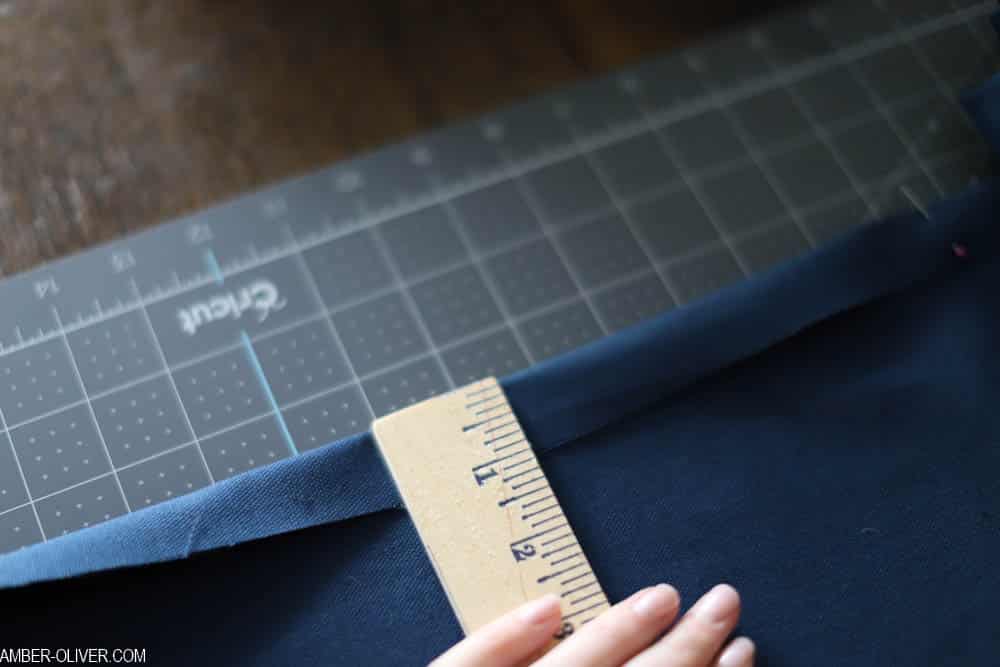 Step 4; Pin the fabric in place and iron down if needed. If you use a nice, heavy home decor fabric you should be able to crease with your hands and have the pins hold in place pretty easily.
Step 5: After all your pieces are hemmed, you can attach them to your box spring. Just slide the mattress over and add your corner panels first.
Initially, I planned to use uphostery twist pins but forgot we don't have a traditial box spring and instead have a mattress foundation so it's solid.
Instead, we used a staple gun and it worked perfectly.
Step 6: After your corner panels are added, put the side pieces on (starting in the top by the headboard.
Step 7: Lastly, attach the foot/end panel and move your mattress back into place!
Our bedroom looks so much better now that we added a DIY bed skirt! Making our own was a simple way to get the exact size and color we needed. By using a quality home decor fabric from JOANN, I knew it would look good and that it will last! Next up? DIY curtains in the same fabric!