Learn how to make your own custom DIY wind chime; a great DIY gift idea!
It's hard to believe that Christmas is RIGHT around the corner! Growing up, Christmas was always a magical time, but even as I got older the season was something I looked forward to. Especially in college because it meant finals were OVER! Being a do-it-yourself connoisseur, I was especially excited to be invited to the Handmade Holidays blog hop! I'm featuring a DIY gift idea and linking up to a TON of other great handmade gifts.
DIY Wind Chime
You may be thinking, "why would I bother making this when I could just buy one?". That could be said about a lot of projects I share here, but I believe there's something special about doing or making things yourself. (Plus did you realize these things can be $100+??) I also believe a gift that is handmade is appreciated so much more! You can follow my tutorial for my DIY wind chime, OR you could get creative! There's a giveaway below that has some amazing craft items that could be used in YOUR DIY wind chime. Let your creativity run wild 🙂
This post contains affiliate links. If you shop from my blog, I may be compensated for clicks or purchases that you make. Thank you for your support! Please refer to my disclaimer page for more information.
DIY Wind Chime
Materials
Scrap wood (no more than a square foot needed)
Cord or Heavy Duty String
Instructions
Cut 2 circles out of the wood with a scroll saw or jig saw. I prefer the control on the scroll saw, but I'm still working on perfecting my skills with that tool! Circles are probably the hardest to cut! The larger circle had a diameter of 8 inches and the smaller was about 4 inches.
You may have to sand the edges of your circle to ensure it's indeed a circle! Mine was pretty wavy on the edges but I was pretty proud of it!
Drill 12 holes evenly spaced around the edge of the circle (about a quarter inch from the edge). These will be for your 6 chimes.
Attach an eye hook in the middle on the top and bottom of the large wooden circle and to one side of the smaller.
Cut your chimes. If you purchase a 5 foot section of copper, not only will it fit easily in your car, it will be easy to divide into sections. I cut mine into 12 inch, 11 inch, 10 inch, 9 inch, 8 inch, and 7 inch sections (whew and 3 inches to spare!).
Decide where you drill the holes to hang your chimes by hold them gently and striking in the middle to see where the best sound is. For mine, this was about 3 inches down from the top. Mark the spot then drill straight through both sides.
Attach the smaller circle to the larger circle by tying a length of string between the two on the eye hooks.
Attach the chimes by looping the cord through the chime then up through the holes on the larger circle. You may need to use a needle at this step.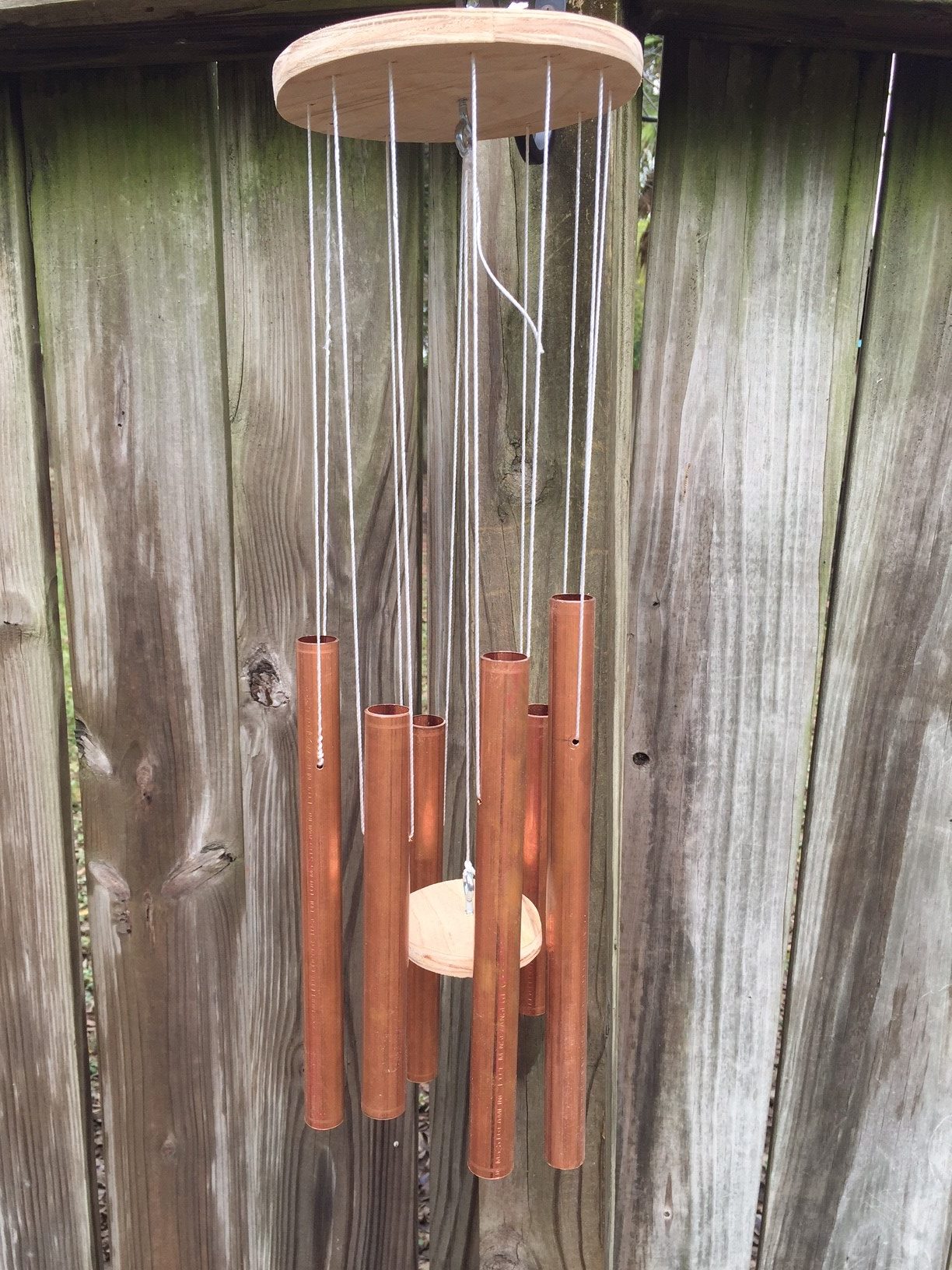 After I got the wind chime put together, I realized I hadn't painted it! Don't make this mistake, it was a pain in the butt to paint after it's assembled! I used DecoArt Americana Outdoor Living paint.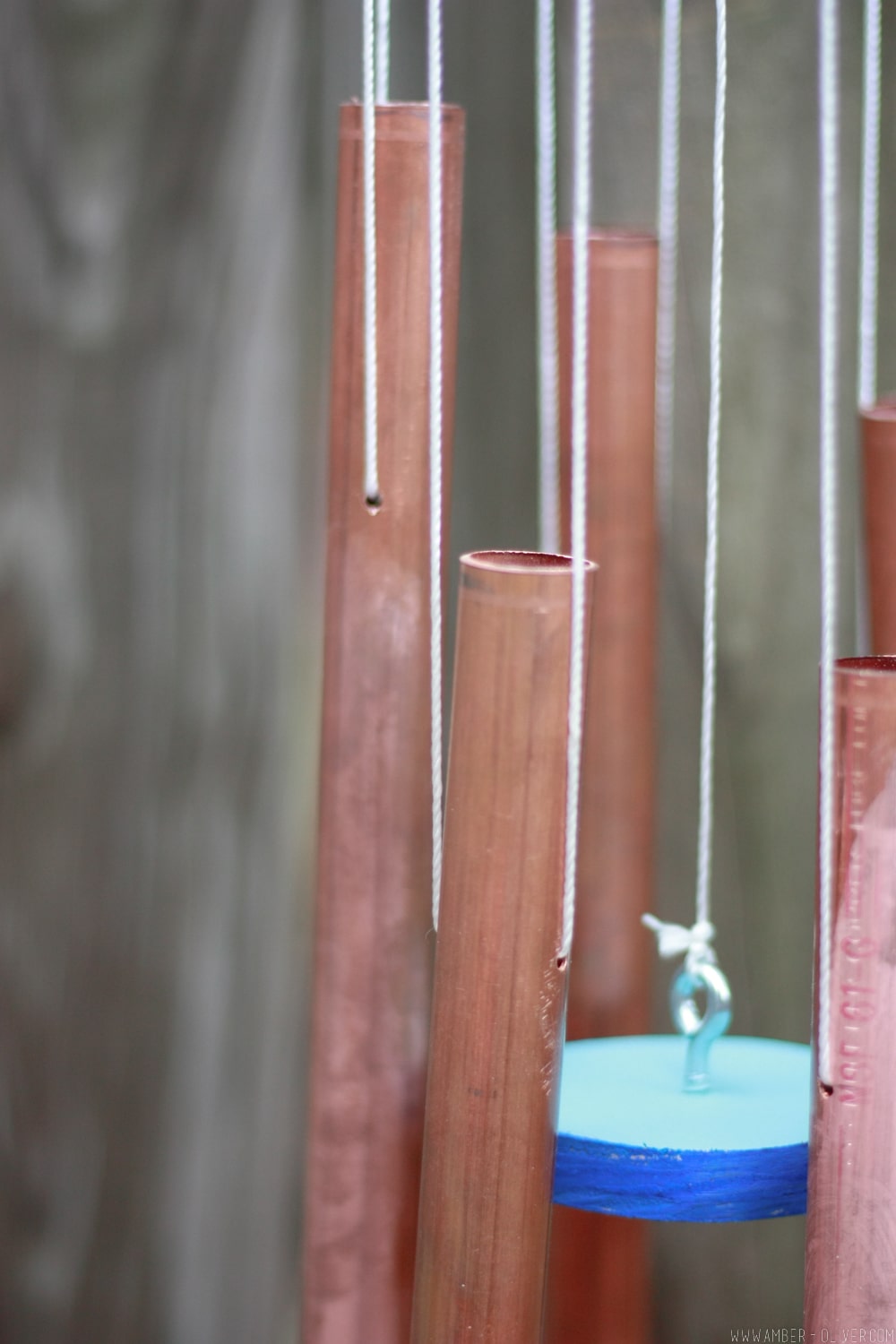 I enjoyed making this DIY wind chime and can't wait to give it to a friend for Christmas! She mentioned wanting a wind chime and I knew making her one would be a wonderful gift idea. If you're interested in more handmade gift ideas for the holidays, check out the links below!