Have you ever seen something you loved but changed your mind as soon as you saw the price tag? My friend Natalie from Signature Style showed me these super cute color block placemats from Kate Spade. The problem? They were $16 EACH! She knew I had a penchant for all things DIY so I decided to try to recreate them and share the tutorial for these DIY Kate Spade placemats! Make a set of 4 for the price of one.
DIY Kate Spade Placemats
A special thanks to Expressions Vinyl for sending me the Heat Transfer Vinyl used for these DIY Kate Spade placemats!
Yield: Set of 4 Placemats
DIY Kate Spade Inspired Placemats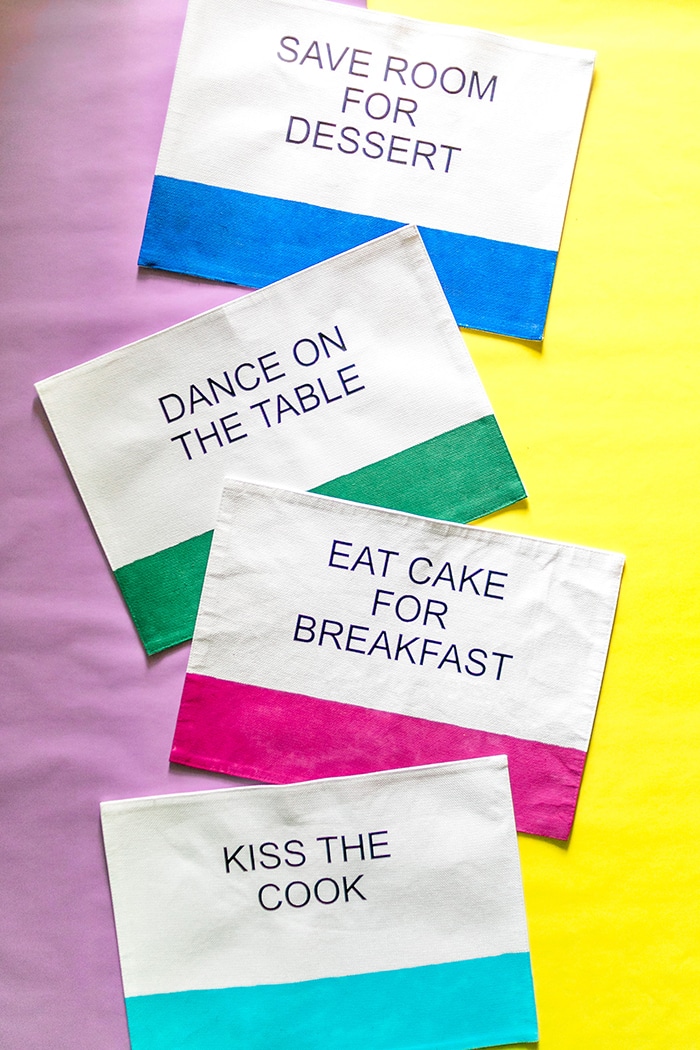 Have you ever seen something you loved and changed your mind when you saw the price? I've created Kate Spade inspired placemats for a fraction of the price.
Materials
Instructions
Cut your phrases out using your Cricut or other electronic cutting machine. If you want to use the same phrases I did, it's your lucky day! I'm providing the cut file for FREE! Download them HERE (Kiss the Cook and Dance on the Table) and HERE (Eat Cake For Breakfast and Save Room For Dessert).
After you cut and weed your vinyl, you'll notice they are printed backwards. Once you stick them on the placemats, the words will be the right way. Use a piece of scrap fabric (I used an old tshirt) and your iron to set the vinyl. Test the edges and remove the backing carefully. I had to press it for about 45 seconds before it was set.
After you've got your vinyl set, use painter's tape to mark the area where you want the color block. You'll want to measure so that each of your placemats is the same.
Mix the fabric medium with your acrylic paint. I noticed the fabric soaked up the paint pretty quickly so it took more paint than I realized. Luckily, it didn't bleed through. My placemats had a basketweave texture so I had to turn the placemat so I could see the areas that needed touched up.
Allow the fabric time to dry, then you can remove the tape!
Follow the instructions on the fabric medium to set the paint before washing. It's recommend you line dry instead of using heat to dry.
Recommended Products
As an Amazon Associate and member of other affiliate programs, I earn from qualifying purchases.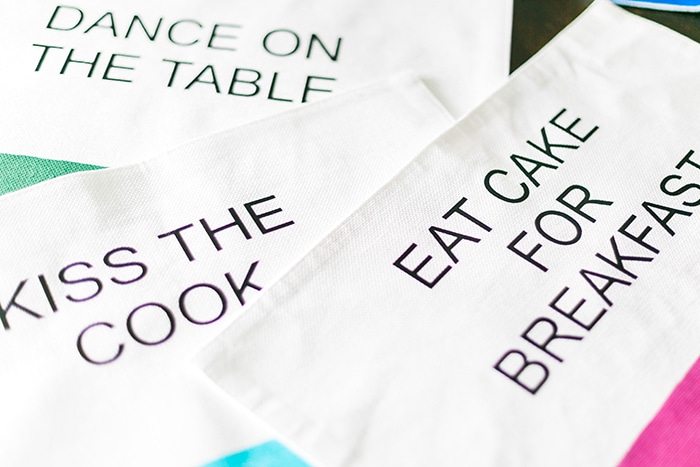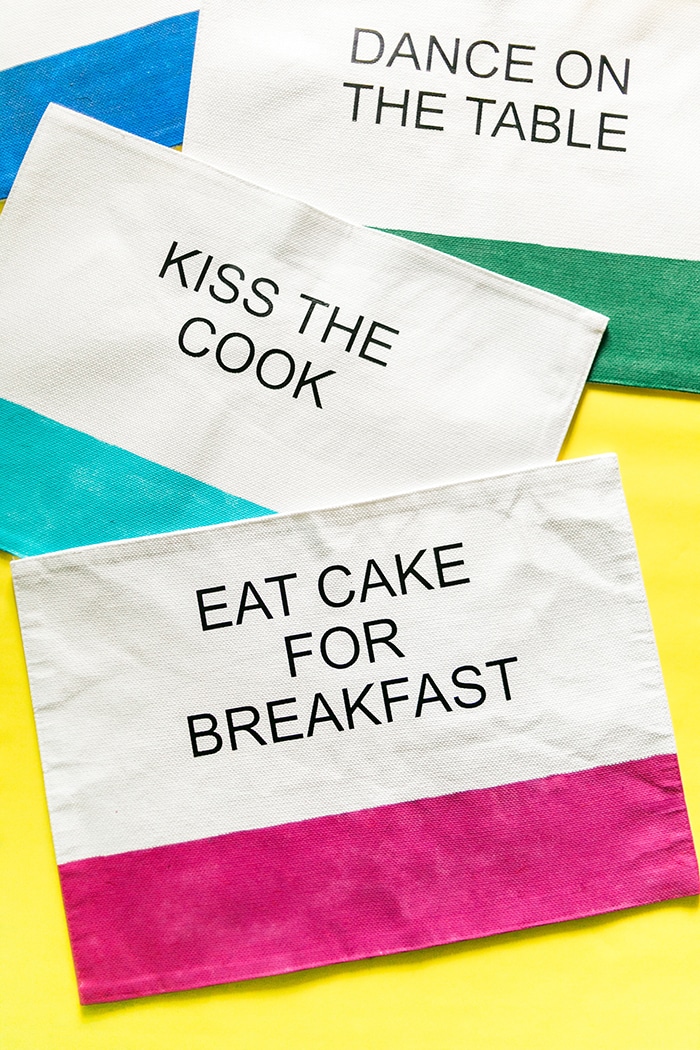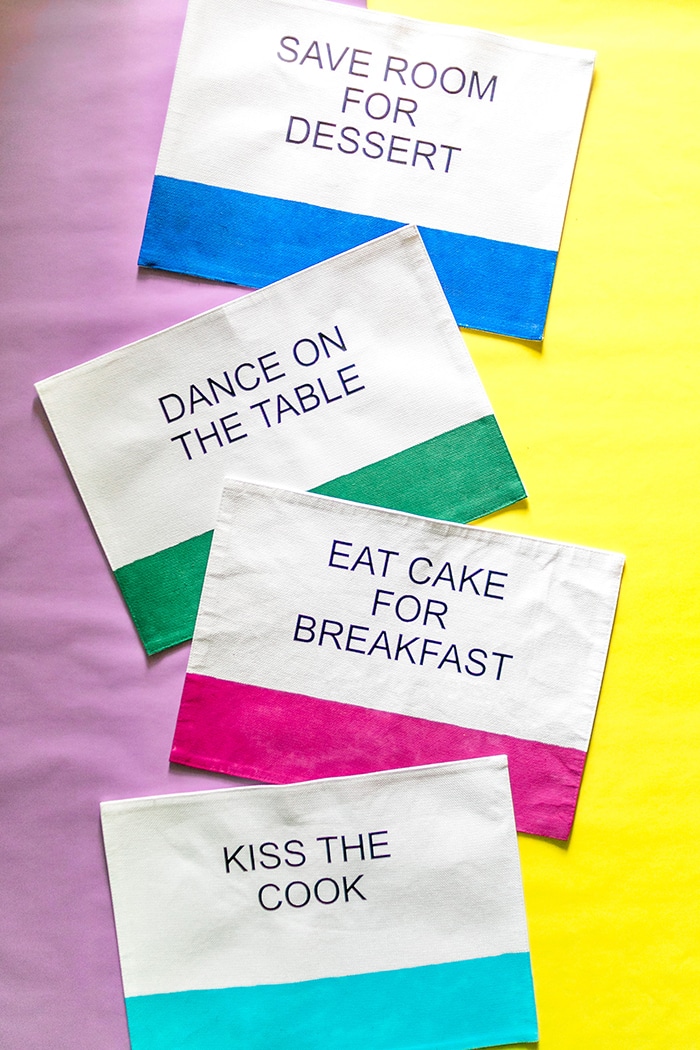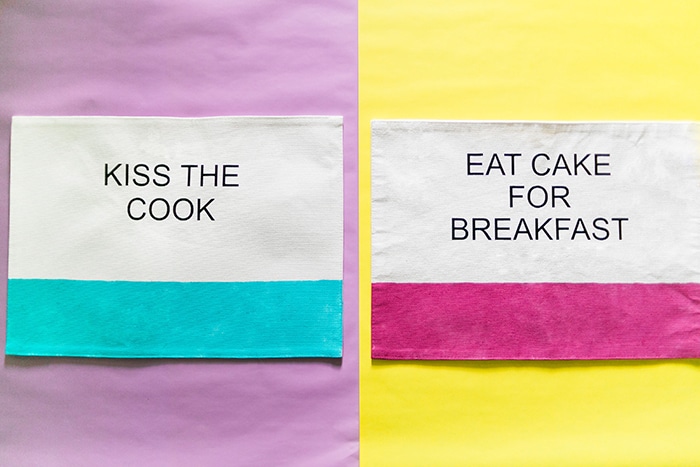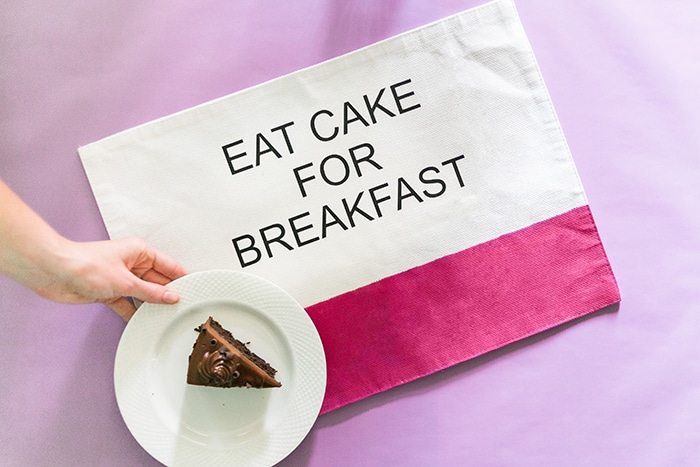 If you aren't the DIY type and would rather buy these adorable Kate Spade placemats, check the links below. You can also link up your favorite FABRIC project for this month's Ready, Set, Craft! Challenge! Get ready for next month's craft where we will be using chalkboard paint! Be sure to follow on Instagram as well (#ReadySetCraftChallenge).