This blog has been compensated by Collective Bias, Inc. and it's advertiser. All opinions are mine.
Since Beyonce dropped her newest visual album, I've had the strongest craving for Lemonade! All the rain we've had lately in Houston has finally let up and we are seeing sunshine a lot more; it was over 90 degrees this weekend! To me, lemonade and sunshine go hand in hand. Last week, at our usual Wednesday night bible study, I decided to make a special drink to treat everyone. We picked up the new Tropical Pineapple Dasani Sparkling water from Target and I came up with a delicious recipe to add a little sparkle to an ordinary weeknight – Pineapple Cherry Lemonade!
Pineapple Cherry Lemonade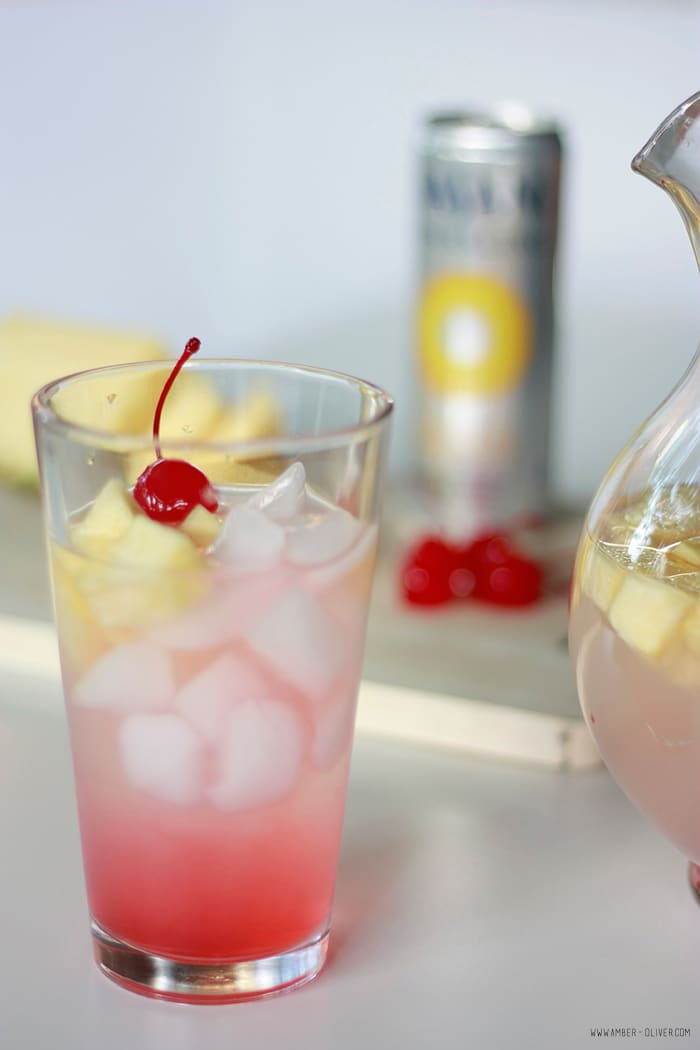 Recipe for a Pineapple Cherry Lemonade mocktail using Tropical Pineapple Dasani Sparkling Water and fresh fruit. The perfect drink to enjoy on a warm day.
Ingredients
4 12 oz cans of Tropical Pineapple Dasani Sparkling Water
1/2 cup fresh lemon juice
1/2 cup of sugar
1/4 of a pineapple, chopped
Maraschino cherries, garnish
1/2 cup Maraschino cherry juice
Instructions
Chop the pineapple into small pieces. To prepare the pineapple: cut the top and bottom of the pineapple (discard), cut in half, and then half again so you are left with fourths. Cut the core and skin off each section then dice into small pieces.
Add the pineapple into a large clear pitcher.
Add the sugar and lemon juice
Pour in the Tropical Pineapple Dasani Sparkling Water and stir
To Serve:
Pour over ice. Spoon a small amount of the maraschino cherry juice. Top with a cherry!
This Pineapple Cherry Lemonade was a huge hit at our house. This recipe only took a few minutes to prepare and was a delicious, refreshing drink – and luckily is a healthy beverage option. Whip this up next time you have company and wow your guests with the gorgeous presentation.
Check out New Way to Sparkle to explore the other flavors of Dasani Sparkling (I want to try Lime next!).