December – Mini Ornaments
I'm so excited for our first Ready, Set, Craft challenge! This month's challenge item was chosen by Kelly of Gav + Ro – MINI ORNAMENTS! I racked my brain for weeks trying to come up with an original idea for the challenge. I had a few ideas but kept putting off working on this project. By the time I was ready to get started, we had to travel out of state for the Thanksgiving holiday. I had plenty of down time between eating leftover turkey and watching football, so I decided to work on this project. I mentioned it to my family during dinner, and my sister in law gave me the idea to use the mini ornaments for a DIY Advent calendar! One trip to the craft store later, I put this project together with the help of my 9 year old niece.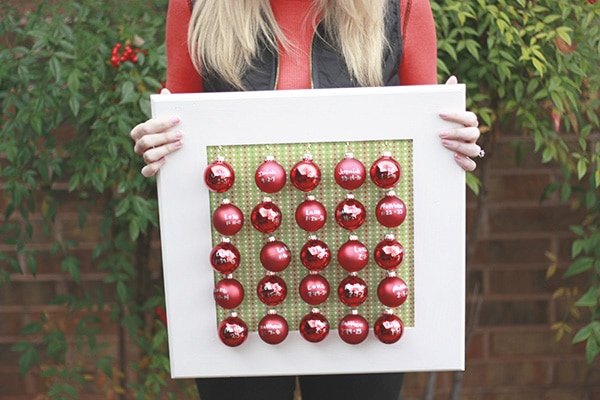 This post contains affiliate links. If you shop from my blog, I may be compensated for clicks or purchases that you make. Thank you for your support! Please refer to my disclaimer page for more information
Yield: 1 Advent Calendar
Mini Ornament DIY Advent Calendar
Using a few items from the craft store, I put together a mini ornament DIY advent calendar with the help of my 9 year old niece.
Tools
Hammer
Paintbrush
Straight Pin
Instructions
Paint your frame.
While your frame is drying, you will prepare the pilot holes for the cup hooks. The 12x12 frame was almost too small to fit all 25 ornaments, but I made it work. Use a small nail to make holes for the cup hooks. Because the hooks screw in, you need these holes so the screws have something to attach to.
Next, I lined up the scrapbook paper and used a straight pin to poke a tiny hole through the back so I would see where to attach the cup hooks. To make this step easier, I would glue the paper down first. I didn't so mine has a few little bumps in it.
After all the cup hooks are attached, you can prepare the ornaments. I used a Sharpie to write scriptures on each of the ornaments. We'll use this to countdown the days until Christmas. Free printable of the verses available below for download!
Lastly, attach the backing to the frame and put the ornaments on the hooks!
We hope you enjoyed this challenge! Our January challenge item will be: YARN! Get to craftin' and have your Ready, Set, Craft! post ready for January 5th.