Does your computer run slow and drive you crazy? I'm an obsessive clicker – if the computer doesn't do what I want I usually click again and again because I get impatient. (Tip #1: Don't do that.) There are many reasons your computer could be running slow and I have some tips to help speed up your PC.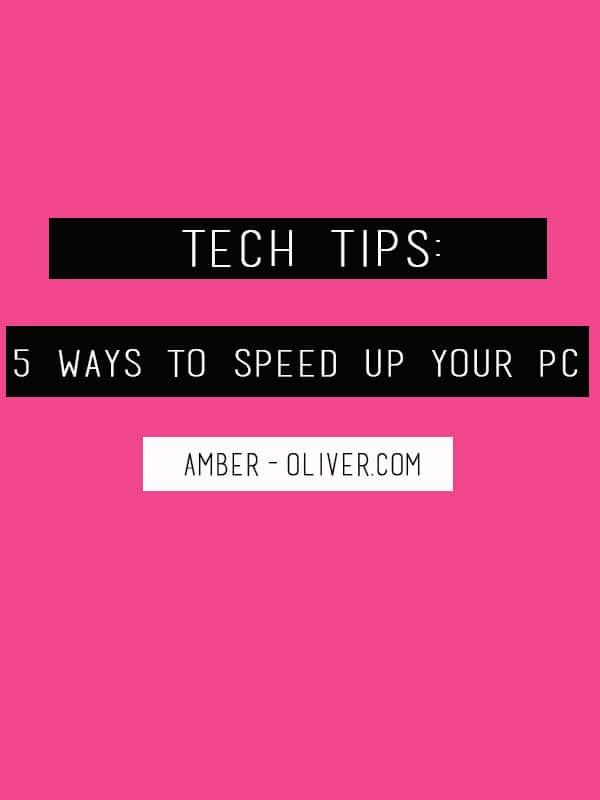 Install updates. The first thing you should do when you are having computer problems is to make sure you have all the Windows updates. (You thought I'd say reboot, didn't ya!?) Windows updates provide patches for your operating system to enhance functionality but more importantly to protect against vulnerabilities like malware. Keep your computer updated to ensure it stays running well.
Check for viruses/spyware. If you are noticing a lot of lag on your system this could be a sign you have some sort of infection. Adware is the most noticeable because you get pop ups and ads on your computer.  Other infections are not as easy to detect. Make sure you have an anti-virus program installed and keep it updated. Microsoft Security Essentials is available for the low, low price of free. Another free anti-virus program is AVG Free. To keep it free don't add all the extra options they suggest.  You also may want to run an on demand scanner like Malwarebytes if you think you have an infection. I've used it at every tech job I've had and it is very thorough. Make sure you run the program updates after you install it for the latest definitions.
Clear the startup. Your problem may be that you have too many programs running and they are bogging down your system. If you clear unnecessary programs from the startup you should notice a big difference in your boot up time and overall performance. This step may be a little intimidating because you have to go into the System Configuration – so tread with caution. The thing to note here is you aren't actually removing a program from the computer. You are simply telling the computer – "don't worry about starting all the services and stuff for this program until I tell you to". I like to take programs like iTunes and my webcam software out of the startup because I don't need them running as soon as I boot. Box Sync on the other hand I do want to start immediately so my files stay synced.  You can access the System Configuration by searching "msconfig" on the start menu or from the Control Panel under Systems and Security > Administrative Tools. This change will require a reboot.

Use the system tools. Windows has built in tools to help with your system performance. The first I suggest is the Disk Defragmenter. Follow the steps from Microsoft to defrag your hard drive and help it run more efficiently. Think of it like Tetris – it goes through and rearranges files so they are easier to find and run! 🙂 You don't need to "analyze" before running defrag. You can find disk defrag from the start menu under All Programs > Accessories > System Tools >
The second system tool to use is Disk Cleanup. This tool will free up disk space to help your computer run faster. You'd be surprised how much room your recycle bin and temp files may be using; I had almost 30 GB! Disk Cleanup is much faster than Disk Defragmenter and can be found on the start menu under All Programs > Accessories > System Tools >

Check your hardware. Lastly, check your system. If you are running a 32-bit version of Windows 7 you can have 4GB of RAM so make sure you are fully utilizing it (You can easily find 4GB of RAM for less than $40). With a 64-bit OS you can go a lot higher. I use 8GB on my laptop and have no problems running Photoshop and other resource intensive programs.
Spend a few minutes today giving your system a little tune up and see what a difference it can make. What do you have trouble with on your PC? Let me know and i'll share a Tech Tip about it!