We are well into 2015 and I can't help but miss all the relaxing and fun times we had over the holidays. This was the first year we completely split the holidays. We spent Thanksgiving week with my family and Christmas week with Eric's. (Bonus: I had New Year's week to MYSELF!) We drove home each time so Barkley could join us. We've really been enjoying the drives now that we have library cards and can check out audio books! We also listened to the Serial Podcast. During Thanksgiving I arranged for family photos as an early Christmas gift for my mom and grandma. We finally have some updated pictures of us together!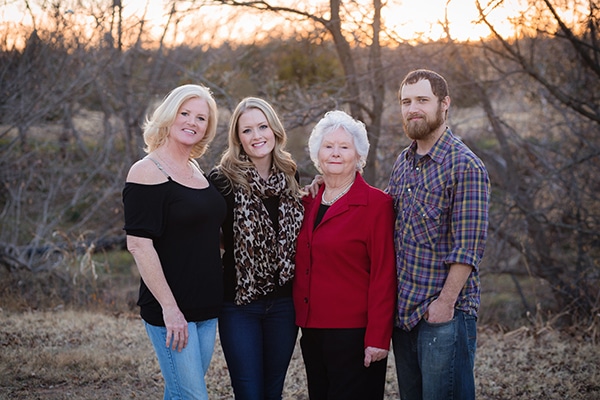 Family Photos by Stacy Bando
I spent several days during Christmas under the weather but we still had a ton of fun because it SNOWED while we were home! As far as we know this was Barkley's first snow. He had so much fun playing with his dog and people cousins. There was a lot of game playing, food eating, movie watching, and book reading. Very few steps on the FitBit during that lazy week!

The tree skirt is actually a carefully arranged pile of curtains!

Christmas Dinner was Prime Rib by my brother in law.. SO GOOD!
This year is already off to a great start. We had a fun NYE and bought Eric a new car! We went 6 months with one vehicle but it was time to each have our own again 🙂 We had fun test driving and shopping but ultimately he got a Mazda 3 hatchback. He drove his 2000 Ford F-150 with the cassette player in the dash and manual roll down windows until last summer when the parking garage flooded. His new car is super fancy and he deserves it.
It will be many, many months before we are back in Oklahoma again so we were glad to have so much time to spend during the holidays. We are preparing for more travels this year and hope to see many family in friends in the coming months. Off to sunny Mexico next week!