Use colorful bows, ribbons, and buttons to create festive rainbow themed cone Christmas trees! This post is sponsored by Offray.
My color of the season? RAINBOW! I had my tree up early this year (before Thanksgiving!!!) so I could have plenty of time to enjoy the colors and cheer. I went with a rainbow Christmas tree this season and to say I'm obsessed is an understatement!
Why settle for one color when you can use them all?! I continued the theme and created some festive rainbow themed cone Christmas trees to decorate around our official tree.
You can find a variety of cone forms in the craft store – made of styrofoam or cardboard – but I wanted to create some oversized cone Christmas trees. Instead of small, table top sized trees I wanted LARGE, floor sized trees! (My red bow tree is nearly 4 foot tall!)
The most cost effective way to do this was with a few sheets of posterboard! For the mid and smaller sized cone Christmas trees, I used a single, large sheet and trimmed the bottom to get varying heights.
In order to create the XXL cone Christmas tree I actually glued two sheets together (end to end) THEN rolled them into shape! Using this method you can create some really tall cone trees!
Yield: 1 Cone Christmas Tree
How To Make Cone Christmas Trees
Materials
Posterboard
Tape
Offray Ribbon
Gift bows
Buttons
Instructions
Start by rolling in one corner of the posterboard
Tuck the corner under and loosely roll
Tighten the end closest to you but let the other end widen
Once you get all the way across, start by taping the end closest to you to keep the point tightly rolled
You'll notice the bottom isn't straight - cut away the excess so the bottom goes straight across
Cut one side, then roll it over, line up the scissors, and cut straight across
Cut at varying places so your cone Christmas trees will be different heights!
I used a variety of embellishments to create fun, colorful textures. My favorite? My gift bow trees! They're super simple – just bows and hot glue! In order to create the full rainbow (and also to vary the textures!) I also used ribbon!
The ribbon was a little tougher – it won't go completely flat. As you roll around the cone and glue, you'll have to make cuts any place that is sticking out. After you put a little snip, add glue and flatten that area.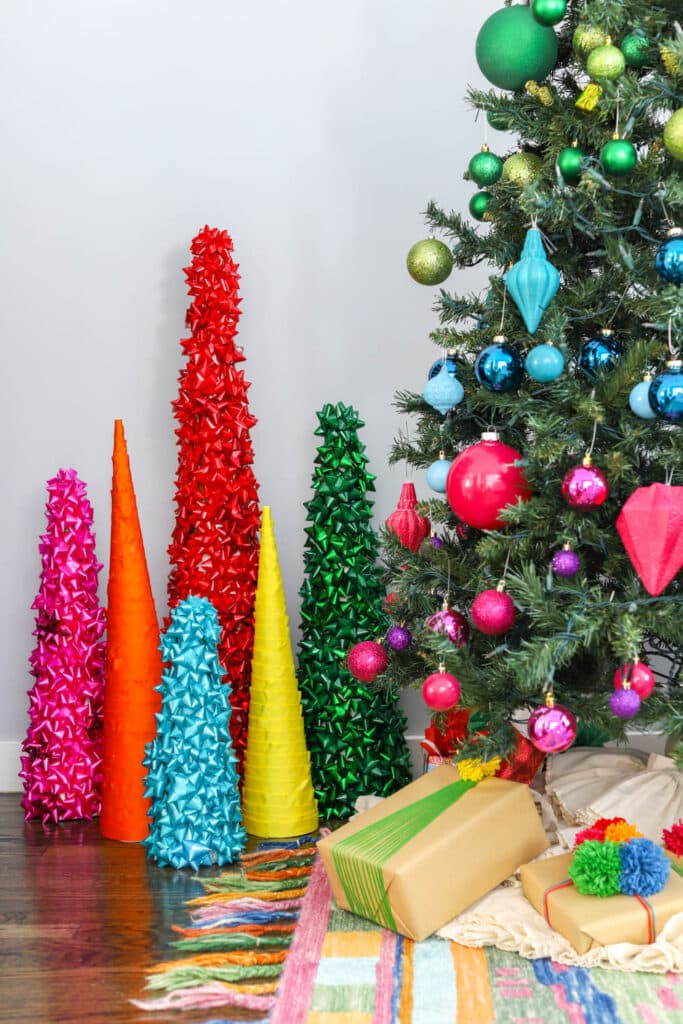 Wanna add a little tree topper to your cone Christmas trees? I cut a star out of cardboard and embellished with buttons. So simple and so cute!
I found all the supplies for these colorful cone Christmas trees at JOANN! The bows can be found in the holiday and gift wrap sections. For even more selection, shop buttons.com and for every color ribbon you can dream shop offray.com!
Don't forget to PIN for later!