Create colorful DIY memory boxes for a creative way to store items by year. This project is sponsored by JOANN.
I've always been a bit of the sentimental type. If you've ever sent me a birthday card, a thank you note, or wedding invitation – chances are I saved it!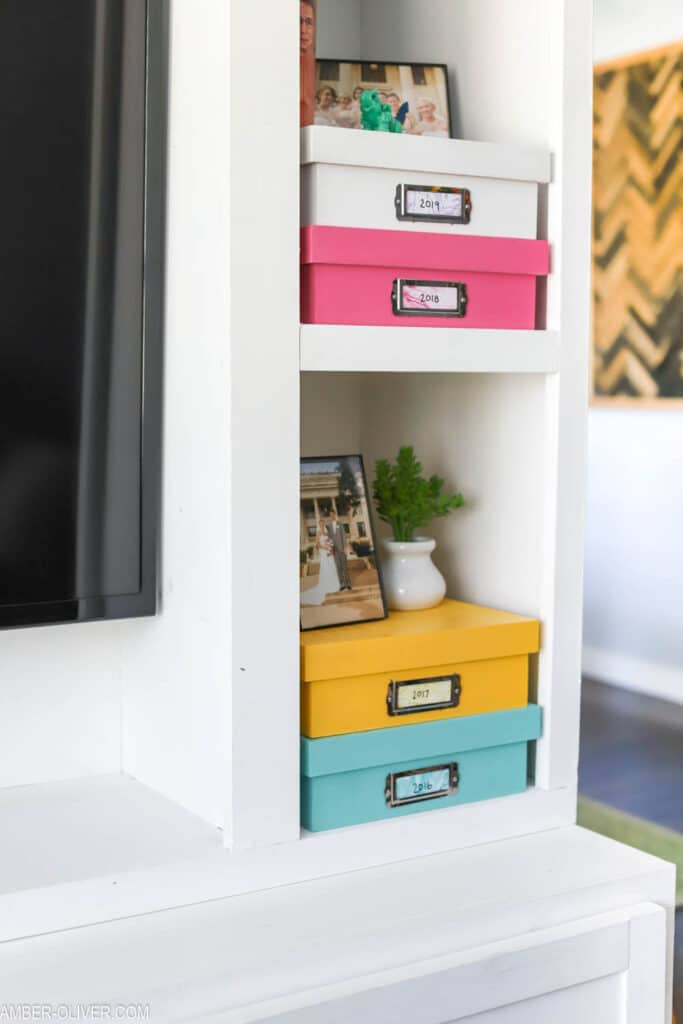 These usually end up piled up in a huge box that every few years I go though and usually can't remember exactly which birthday they are from. In order to get my sentimental items in order I created some colorful DIY memory boxes for a creative way to store items by year.
I found these great wooden boxes at JOANN that were lightweight, the perfect size, and had label holders on the front. The unfinished wood was the prefect blank canvas to paint to match our home decor!
For this project, I used the line of Rust-Oleum Imagine Lacquer Spray Paint from JOANN! I chose colors that would match our living room decor: turquoise, pink, white, and yellow.
Yield: 4 memory boxes
DIY Memory Boxes
Start with unfinished wood boxes and add a few coats of Rust-oleum Imagine Lacquer spray paint for a gorgeous finish on your DIY memory boxes.
Total Time
1 day
30 minutes
Materials
Instructions
First, lay out a drop cloth to protect the ground.
Remove the hardware - they should pop off easily.
Next, gently sand the surface of the wooden boxes in the direction of the grain.
Use a cloth to knock off any dust so the surface is clean.
Shake the can vigorously then do a test spray to make sure it's ready.
Using a sweeping motion, apply the first coat of paint.
Add a 2nd or 3rd coat if needed (I did two coats!)
Allow to dry overnight.
Add the hardware back on, then insert paper with the dates on each box.
This acrylic lacquer formula dries fast to create an ultra-hard coating on surfaces. It dries to the touch in 20 minutes, so by the time you get the first first coat on each memory box, you should be able to go back and add a second coat!
Not enough gloss for ya? The surfaces can be sanded and recoated to create a higher gloss. Get all the shine your heart desires!
While I used it on an interior project, the ultra-hard coating means you can use both indoor and outdoor. This paint would be great for furniture, lamps, pictures frames and more!
I used some gorgeous watercolor printed paper I found at JOANN and hand wrote the year on each box. Now, I can go back and separate items by year for a quick and easy way to remember. I also plan to print photos and add them in the boxes with the cards, newspaper clippings, etc.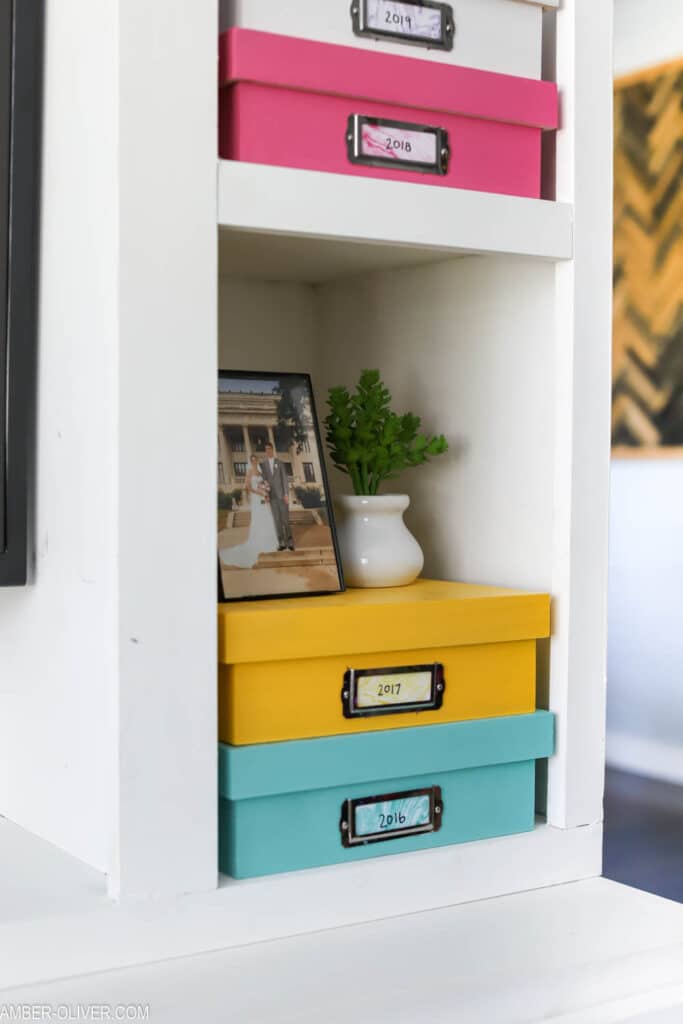 Grab a few boxes and cans of Rust-Oleum Imagine Lacquer Spray Paint on your next trip to JOANN and create your own DIY memory boxes so you too can cherish all your sentimental keepsakes!
Don't forget to PIN for later!