Find out how to install peel and stick backsplash and tackle this project in one afternoon! This simple DIY backsplash uses beautiful peel and stick stone backsplash courtesy of Aspect Tile!
Whether you're an experienced DIYer or a first time homeowner just dipping your toe into the wonderful world of DIY, you'll love this project! It doesn't get much simpler than PEEL and STICK! If grouting tile seems way too messy or overwhelming for you, I totally recommend this DIY backsplash project. Plus you can do it yourself for less than you'd pay for someone to come in and tile for you in the traditional method. You can install a brand new DIY backsplash in under an hour!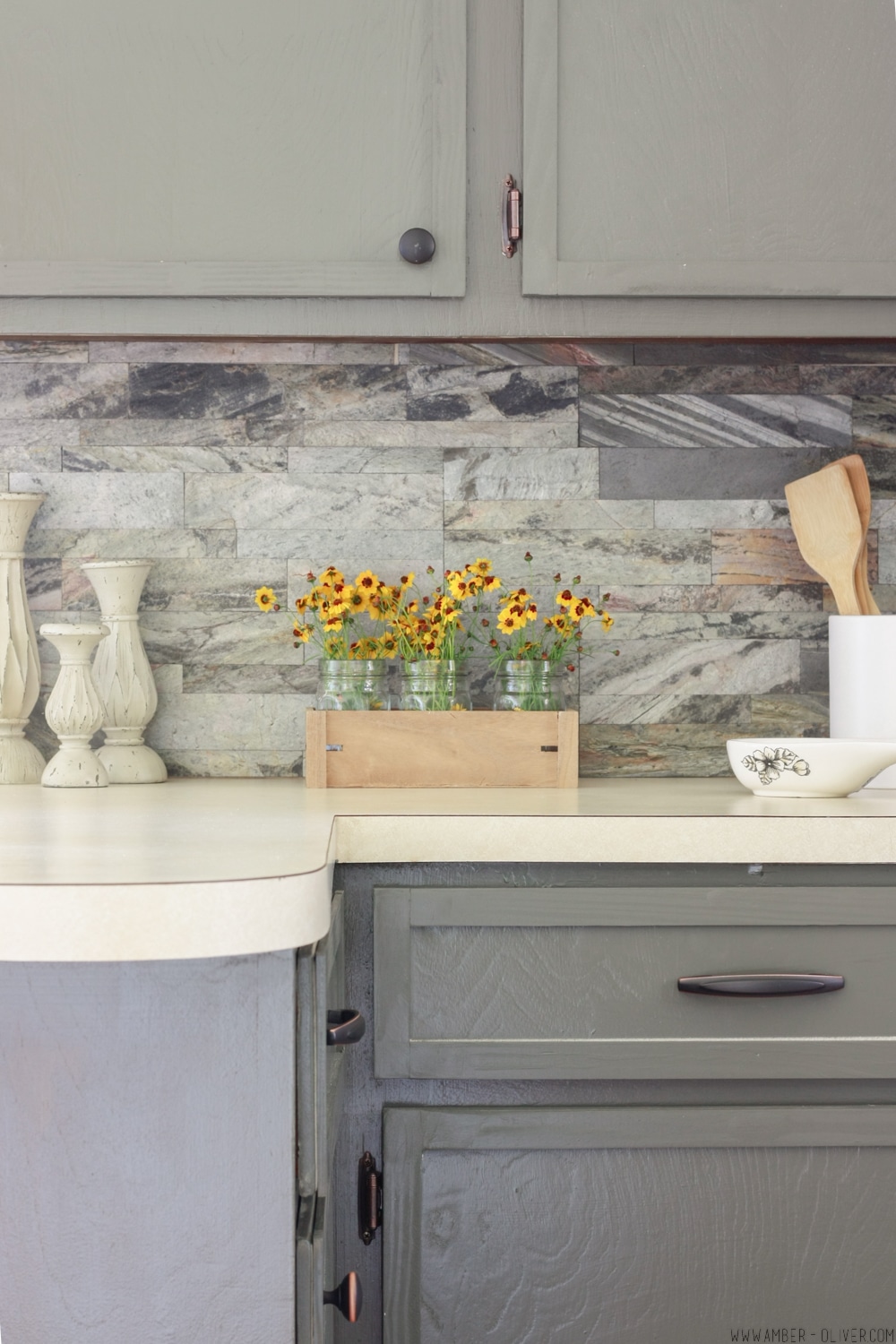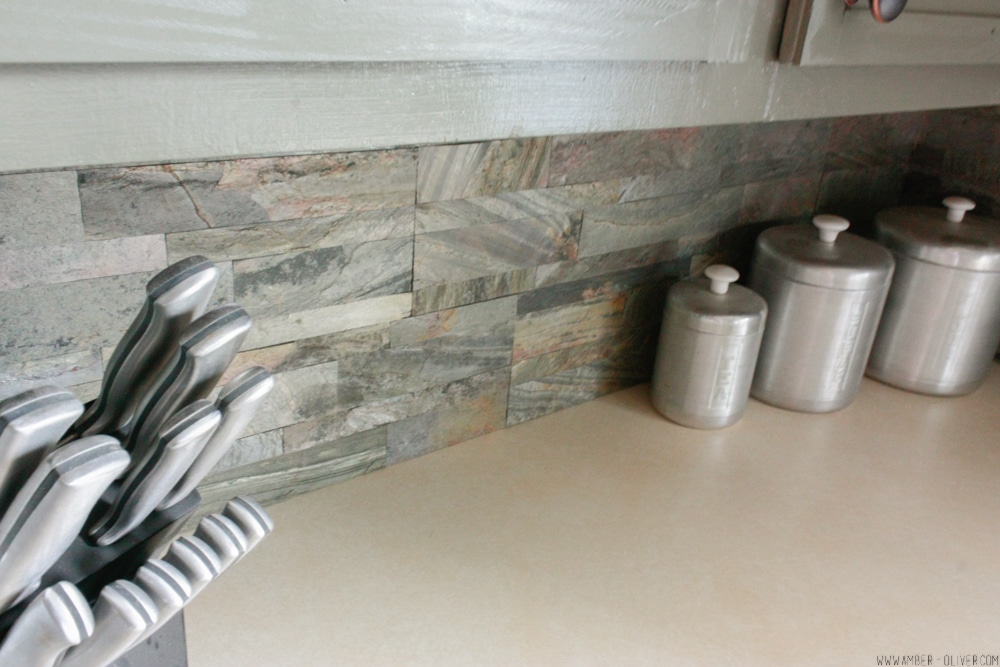 These peel and stick tiles perfectly accented the newly painted cabinets in my mom's house! You can read more about this full kitchen remodel here.

This project is almost too simple to have a full tutorial on! There isn't much to it!
How to Install Peel and Stick Backsplash
First, prep your area based on the specifications from Aspect Tile.
Start on one side (I started on the bottom of the left side) and do a row as far as you can until you run into an appliance or something!
Once you reach a piece that has to be cut, simply measure the space, then mark on the back of the tile.
Next, cut the tile to fit. We were able to cut with scissors, though tin snips are recommended. You can also cut the straight cuts with a miter saw.
For the second row,  we used one of the scrap pieces to start so that the tiles didn't line up and were staggered.
Continue until you reach a socket or appliance and have to cut again!
]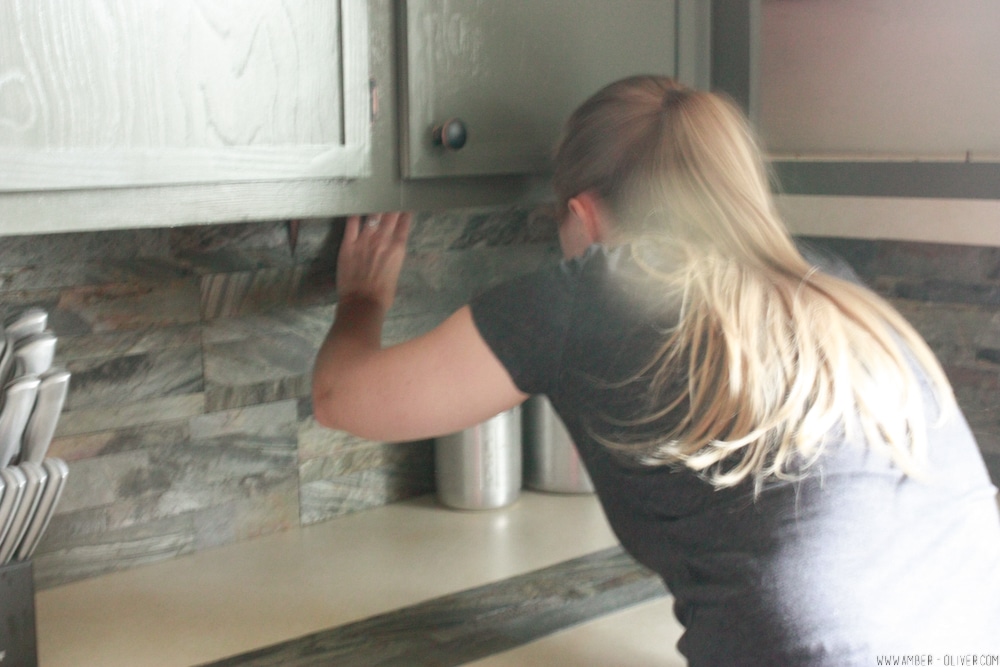 We applied the peel and stick stone backsplash directly to the current "backsplash". Instead of sheet rock, it was the same surface as the Formica counter tops. To remove the tiles, use a heat gun. This would probably work perfectly for us, though if you are going directly on sheet rock it probably wouldn't be as simple to remove. You can get more information about doing a DIY backsplash from Aspect Tile!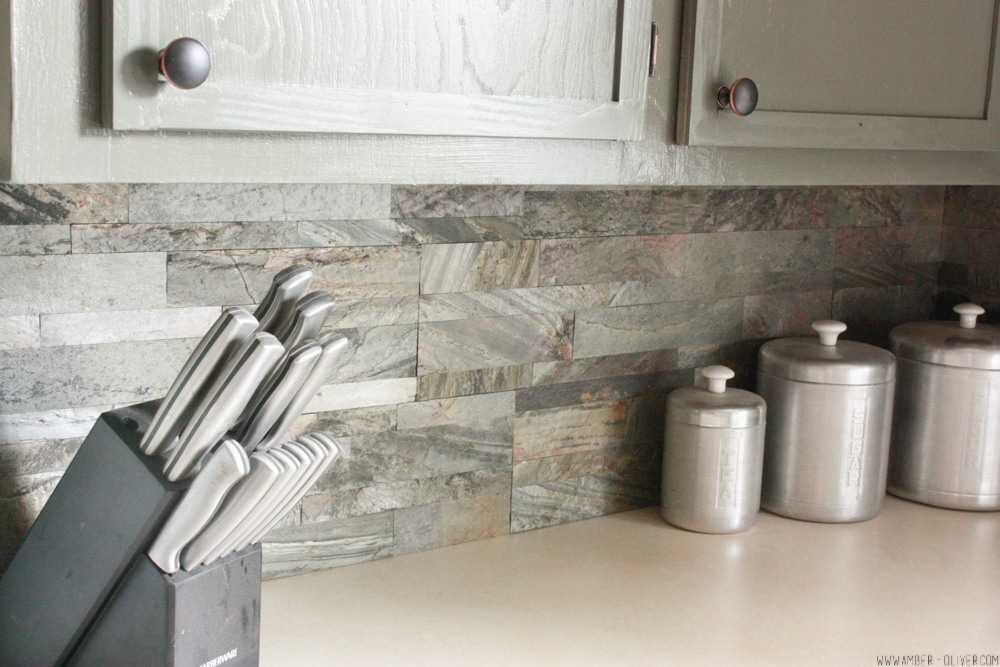 I've rounded up a number of colorful backsplash tile ideas to give you all the inspo you need to tackle this project! If you're doing a larger kitchen makeover and want to paint your cabinets as well, here's a list of 30+ popular kitchen cabinet colors to get your DIY ideas flowing!