Thanks for stopping by to check out my DIY fabric covered wall! I hope you'll also follow along while I fill my home with color, patterns, and fun!
Follow me! INSTAGRAM | TWITTER | FACEBOOK | BLOGLOVIN
When I was planning my home office makeover, I knew I wanted an accent wall. I've kept a pretty neutral tone throughout our entire house. We have dark wood floors, light blue/gray walls, and bright white trim. I've accented with shades of blue and green and love how calm and welcoming our home feels. In my home office/craft room, I wanted something bright, colorful, and fun. I wanted a room that reflected my personality and would make me happy every time I walked in. I originally considered wall paper, and found several beautiful options. Unfortunately, it was WAY out of my price range. I also liked the idea of something that wasn't permanent. Enter my DIY FABRIC COVERED WALL!
I actually did my first fabric covered wall in college. My freshman year, I covered a wall in my apartment with ZEBRA fabric! (So 2007!) To hang the fabric, I simply stapled it at the top and bottom. This go round, I used Elmer's Craftbond Spray Adhesive. I did put a few staples (I have hot pink staples that blended perfectly) but I only used those along a few of the seams where someone could accidently brush against the wall. This is a surprisingly simple DIY that makes a dramatic difference!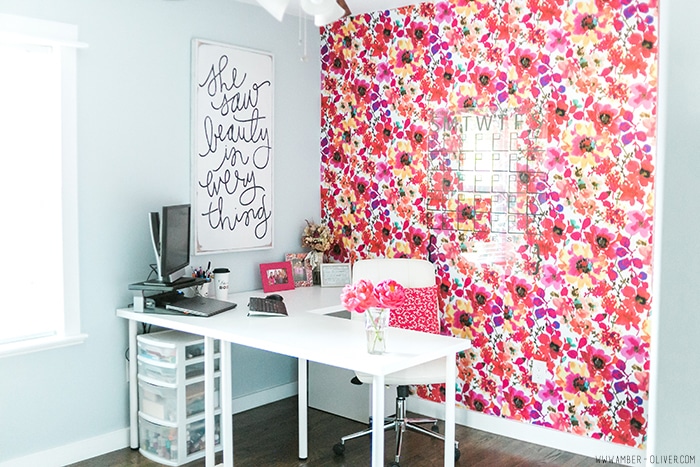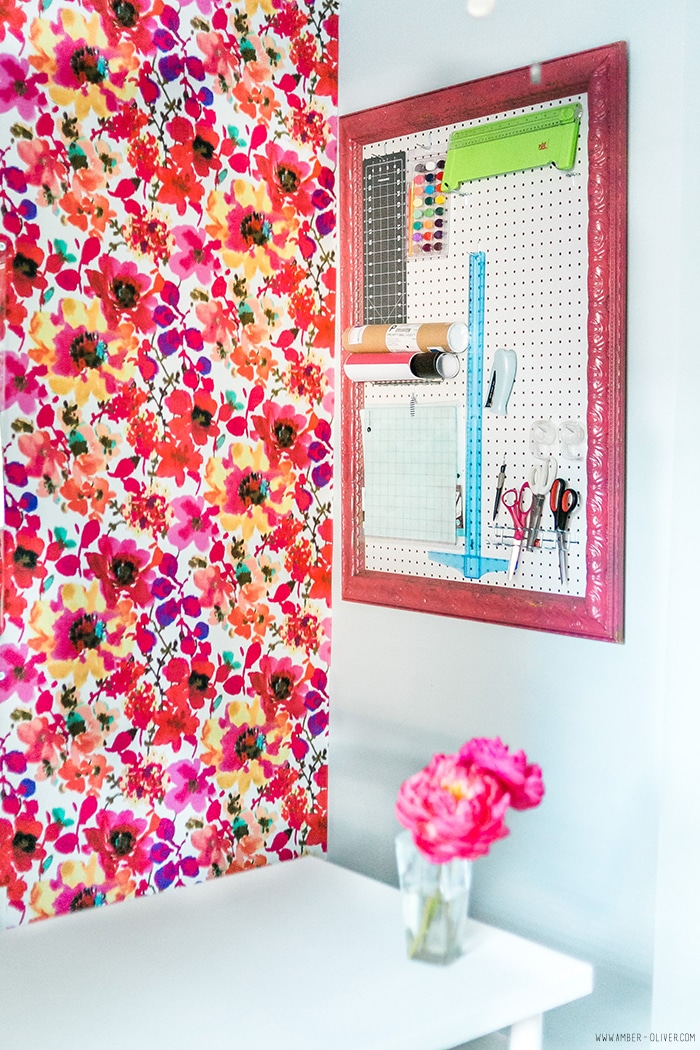 Check out my tutorial for a DIY Peg Board!
My friend and I went to 2 different JoAnn's stores to get enough fabric for my wall. The fabric is 48 inches wide so I needed 3 eight foot sections. The last strip is only about 8 inches wide (bummer it wasn't a perfect fit!) but now I have a nice long section of this gorgeous fabric I can use for something else. I can't find the fabric anywhere online, but they had it in multiple JOANN stores. It's called Ikat Diva by Home Essentials.
Yield: 1 Wall Covering
How to: DIY Fabric Covered Wall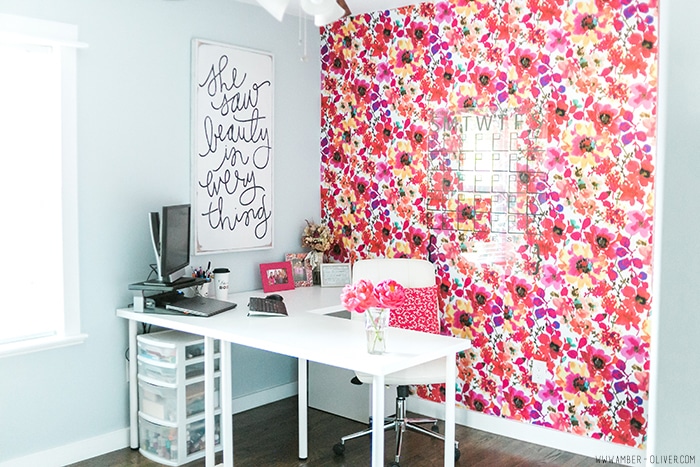 Wallpaper was way out of budget (and a mess to hang). Here's a less permanent wall covering. This tutorial shows you how to do a fabric covered wall.
Total Time
2 hours
15 minutes
Materials
Enough fabric to cover your wall
An extra set of hands
Tools
Instructions
Measure your wall. When you pick your fabric, you'll have to do a bit of math to figure out how many yards you need. I recommend adding an extra half yard.
I laid the fabric out in the dining room (after sweeping the floor!) and used sharp scissors to cut out the 8 foot sections. The sharper your scissors, the cleaner your edges will be. Luckily, the cut edges will be by the ceiling and baseboard so if it's not *perfect* you shouldn't be able to see it.
When you are ready to hang your fabric, start in the corner. Spray the adhesive across the wall the width of the fabric and down about 2 feet. Your goal is to get the top section up so you can move slowly down the wall. Make sure your edge is lined up!
The spray adhesive is pretty forgiving, but do try to stick it and leave it. If you have to readjust you can, but you may want to spray a bit more adhesive. Using your hands, smooth out the wrinkles, working from your starting corner out.
The wall I was using only had one outlet. I got the fabric adhered on the wall until I was just above the outlet. Unscrew your outlet, and using an X-ACTO knife CAREFULLY cut an opening for the power outlet. You only have to cut enough out that the fabric is free from the plug area, not the entire size of the hole.
Once your hole is cut, use the spray adhesive to adhere the fabric around the hole, then put the plate back on the outlet.
When all the fabric is hung, use the xacto knife to go along the baseboard and trim away any excess fabric or strings.
I added the colored staples near the seam that was in the middle of the wall. The other was behind my desk so I didn't worry about stapling it.
What do you think of my fabric covered wall? Would you attempt this in your home or apartment? It would be perfect for a rental situation!
Don't forget to PIN for later!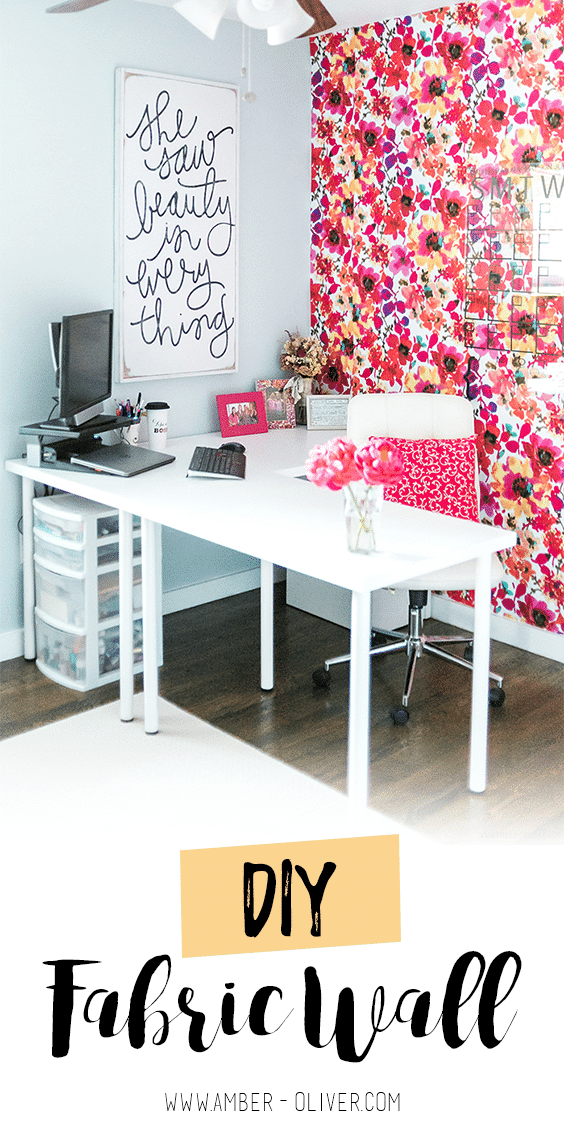 Shop this project: