I have a special guest post today from my dear friend Meggie of Organized Life Design. She was one of my first friends when I moved to Houston and we've had tons of fun over the past few years. She's married to a great guy, Salvatore, and they have an adorable baby girl Sophia. She started her business this year and she's already doing great things! We took a trip together to Seattle a few weeks ago and I was panicking about packing my bag – I really wanted to avoid an extra $50 charge from the airline to check a bag but it's cold in Seattle and I needed lots of layers + multiple outfits/shoes for the conference we were attending. It's a good thing one of my closest friends is a professional organizer! She gave me some great packing tips on how to pack a carry on and I asked her to share those with you today. Meet Meggie!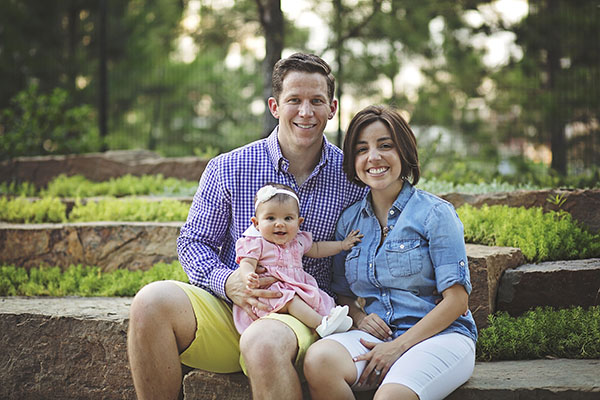 Thank you airlines for adding baggage fees (not really) as it has motivated me to confine to only carry-ons! But how in the h-e-double-hockey-sticks do you pack for 4 days in winter weather in one suitcase?? I'm so glad you asked. First thing's first – what's the weather where you're going? Use it in terms you can understand i.e. I'm from Texas so anything below 70 is COLD. Therefore, I need a coat when < 60 degrees. I know some who could push the 50 mark with just a vest – brrr.

1. Three nights only requires one set of pjs (extra top if you sweat like a linebacker, but turn off the heat or keep temperature low while you're sleeping).
2. Pack one outfit per day with one extra top. I'd make that two extra if you have messy little ones traveling with you. If you absorb one piece of advice take this: wear neutrals so that your pieces can mix and match. Then you can re-wear or change up what you packed. This especially goes for your jewelry and shoe options. If you're a brown gal – don't try wearing black pumps and vice versa.
3. Toiletries can dominate half a suitcase but let's be real for a second; do you NEED all of it? Do a major edit and take out duplicates – same goes for what might already be in your purse or other carry-on. Think makeup, eye drops, medicines, etc. Are you staying at someone's house or a hotel? Blow-dryer is probably a given and you may ask about curling iron or straightener.
4. Wear your bulk – your coat or jacket and scarf. If you're coming from hot to cold you may be carrying until you get there but it will save you lots of packing real estate. Airport rule makers are usually tolerant of you carrying in your arms. If anyone questions you just put it all on and tell them you're heading for the arctic on a mission to save the polar bears.
5. Shoes! If you're taking boots – wear them. You only need one pair of heels (if you need those at all) and one pair of flats. Going back to the neutrals advice – your flats should match ALL your outfits. Same goes for heels and boots.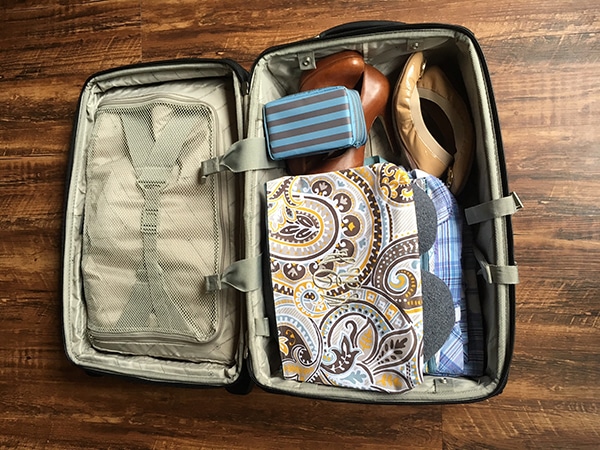 If you've ever had an airline lose your bag **cough*United*cough** then you know how awful it is to deal with. So not only are you avoiding the baggage fee but you save yourself the hassle if the airline has an off day. Then you won't land in Wisconsin for a same day wedding without your dress up clothes (a story for another day…)
Thanks Meg for posting today. Be sure to follow along with her on Instagram and like her Facebook page for updates and tips about organizing your life! If you are in the Houston area and need some help in your home or business be sure to contact her!